Ozeri, Boutique Supplier of Houseware Products, Acquires New Customer, Ocean Village Tofino Resort
Ocean Village Tofino Resort has purchased Ozeri's Stone Earth Frying Pan, which is 100 percent APEO and PFOA free.
Press Release
-
updated: Mar 3, 2017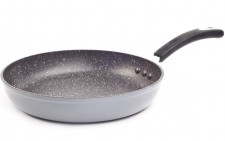 Ventura, CA, March 3, 2017 (Newswire.com) - Ozeri Corporation serves the needs of a number of leading hospitality enterprises worldwide and recently added the Ocean Village Tofino Resort to its roster of hotel customers. Situated on Mackenzie Beach on Vancouver Island, Ocean Village Tofino is located approximately three miles from Pacific Rim National Park, a premier coastal wilderness region. Offering beachfront cabins and cottages, the resort emphasizes a minimal footprint and buildings integrated with surrounding scenic beauty.
The resort has purchased Ozeri's Stone Earth Frying Pan Series for beachfront cabins and cottages. The Stone Earth Frying Pan frying pan features a natural stone-derived coating from Germany that achieves non-stick perfection while remaining free of PFOA (Perfluorooctanoic Acid), and APEO (Alkylphenol Ethoxylates) and even lesser known chemicals such as NMP (N-Methyl-2-pyrrolidone) and NEP (N-ethyl-2-pyrrolidone).
Conventional pans often achieve their non-stick performance with the aid of PFOA, a potential carcinogen in which the EPA has classified as a 'persistent pollutant of the environment', and APEO, which are under restricted use in Germany due to environmental concerns about their poor biodegradability and toxicity in the food chain. 
According to the EPA, once ingested, PFOA is capable of remaining in people for a very long time and has been shown to cause developmental and other adverse effects in laboratory animals.  With the Stone Earth Pan's stone-derived coating from Germany, no such controversial chemicals are ever passed on to the customer or released into the environment.
"The Stone Earth Frying Pan is of exceptional value and made without the support of controversial chemicals. It aligns well with the resort's "going green" initiative that seeks to minimize the property's eco footprint," says William Huckestein, president of Ozeri.
Ozeri is a specialty manufacturer of digital lifestyle products for the modern home. The company began as a boutique supplier of novel houseware products for the destination resort and hospitality markets, and today is a leading manufacturer of ultra-modern, lifestyle products and healthy living items for the home. Ozeri sells a variety of products including digital kitchen scales, electric wine openers, eco-friendly ceramic cookware, advanced bath scales with weight management tracking, and more.
Ozeri offers high-quality products that combine elegant and functional design with innovative technology. The company's healthy living and home products can be found online at Amazon as well as Walmart, Sears, Home Depot and other fine retailers. For more information, visit Ozeri.com.
About Ozeri
Ozeri products are of a pedigree for the ultra-luxury markets they serve, where five-star residences are matched with the finest kitchen, bath, entertainment and personal amenities. With design centers in Germany, California and Hong Kong, and production facilities spanning Asia and Europe, Ozeri incorporates award-winning designs, innovative materials, and durable construction for long-term product satisfaction. For more information visit Ozeri.com or contact sales@ozeri.com. 
Source: Ozeri
---
Categories: Travel, Transportation, and Hospitality News, Kitchen
Tags: frying pan, green pan, saute pan, stone pan
---