Massachusetts General Hospital Uses the Ozeri Pro Digital Kitchen Scale for a Metabolic Research Program
Press Release
•
updated: May 9, 2019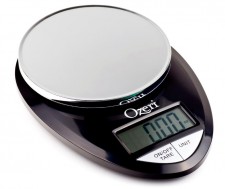 VENTURA, Calif., May 9, 2019 (Newswire.com) - A manufacturer of high-quality housewares ranging from kitchen cookware to precision bath scales, Ozeri is an emerging brand with a cultivated following for its products for the modern home and is a supplier to hotels such as the Shangri-La Hotels and Resorts and national retailers across North America. Included in its comprehensive line of kitchen and houseware products is Ozeri's wide range of efficient, high-quality kitchen scales.
Massachusetts General Hospital (MGH), the largest New England hospital and third-oldest general hospital in the United States, will be using the Ozeri Pro Digital Kitchen Scale in an MGH study led by Project Sapiens. The scale has a capacity range from a mere 0.05 ounces to 12 lbs, with a precise graduation of 0.05 oz or 1 gram. The scale also displays results in both the U.S. and international metric systems (grams | ounces | pounds | kilograms).
Ozeri is proud to provide its scales for this Project Sapiens study in one of the most prestigious hospitals in the United States. Project Sapiens is a leading research group that studies human metabolic processes in order to help individuals optimize their diets according to their unique metabolisms. Massachusetts General Hospital, which is in collaboration with Project Sapiens on this research program, takes in over 46,000 inpatients and manages almost 1.5 million outpatient visits annually. MGH also runs one of the longest-running and expansive hospital-based medical research programs in the nation, which helps the institution earn its consistent rating as one of America's top five hospitals.
About Ozeri Corporation - Ozeri began as a supplier of housewares to the vacation market and has since expanded into the consumer market, boasting a wide range of products sold at Amazon, Macy's, Home Depot, Walmart, Wayfair and many other retailers. Focused on combining compact functionality with superior aesthetics, Ozeri is dedicated to producing modern home and lifestyle products to meet the needs of its growing clientele. To browse Ozeri's many lines of kitchen and tableware products, visit www.ozeri.com.
Source: Ozeri
Related Media