Oxxiom - the World's First Wireless, Continuous, Fully Disposable, Single-Use Pulse Oximeter for Clinical and Fitness and Wellness Applications
Oxxiom has been designed for optimal placement on the temple, making it the perfect choice for athletes and patients.
Press Release
-
Feb 18, 2016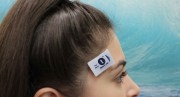 Rancho Santa Margarita, CA, February 18, 2016 (Newswire.com) - The temple is the perfect place to measure physiological parameters due to its proximity to the heart and the arterial system that provides oxygenated blood to the brain. This allows for reliable heart rate, perfusion index and oxygen saturation measurements during physical activity or at rest.  Oxxiom, the world's first wireless, continuous, fully disposable, single-use pulse oximeter for clinical and fitness and wellness applications has been designed for optimal placement on the temple, making it the perfect choice not only for patients under care but also for serious athletes.
In the fitness and wellness market, superior device performance and comfort level are the keys to success. The same rationale can be applied to the medical device field. Oxxiom has been designed as a dual application device, offering the accuracy of a medical device and the ergonomics and comfort of a fitness and wellness oximeter. Currently, fitness and wellness wearables do not have specifications that make them suitable for clinical applications, and medical devices do not offer the comfort and ergonomics suitable for fitness and wellness.
Oxxiom offers several advantages over oximeters currently in the market. Oxxiom is convenient, reliable, does not require recharging, and enables continuous 24-hour clinical grade measurements of heart rate, perfusion index, and oxygen saturation in a light, easy to use set-up, which can be placed on the fingertip or temple. Oxxiom never gets outdated and is easily paired with its host device from up to a 30 feet range. This means that, in an enclosed setting, athletes can exercise without carrying their mobile devices. 
Oxxiom's unique design in terms of size, weight, and comfort makes it the perfect choice for athletes who want to boost their endurance and performance. It is also ideal for clinical applications like apnea/sleep monitoring, COPD, asthma, sedation and anesthesia.
Additional information about True Wearables and Oxxiom can be found at truewearables.com
Oxxiom is not yet approved for clinical use by the FDA. 
Media contact:
Tatiana Buticosky Lamego
True Wearables, Inc.
Phone: 949-709-0850
Email: tblamego@truewearables.com
Share:
---
Categories: Exercise and Physical Fitness, Medicine and Healthcare, Healthcare and Medical News
Tags: continous, disposable, extended use, fitness and wellness, oximetry, pulse oximeter
---