Overline Media Partners (OMP) Together With Donald Trump Jr. Narrows List of Investment Banks for Blockchain Media SPAC
Press Release
•
updated: Dec 22, 2020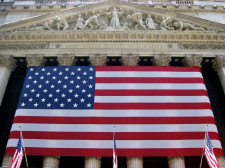 NEW YORK, December 22, 2020 (Newswire.com) - Overline Media Partners (OMP) has engaged with investment banks for the development of modern capital formation structures for its holdings and acquisitions. This includes but not limited to a special purpose acquisition company or SPAC. Negotiations with the go-to-market partner are expected to be completed in the first 10 days of January 2021. The final banking partnership criteria is twofold; a long term record of regulatory compliance and significant underwriting capabilities to support the purchasing power available to OMP.
As a mass media technology group OMP is following a 365-day "buy-and-build" strategy that begins with immediate M&A transactions of high growth assets. These assets become part of an ecosystem unified by cross-platform blockchain technology and elite media talent.
The OMP ecosystem's focus on decentralization means that the business or talent involved retain the control necessary to prevent yet another agenda-driven news network. Overline's technology CEO Patrick McConlogue says, "Ultimately content creators, reporters, and the viewers themselves have as much or more power than the TV station itself. This doesn't include the impact of billing advertisers in the coin of the segment they are trying to reach." Overline Verified Viewer and Overline Hardware were developed as a stealth 'skunk works' project while co-founders Patrick McConlogue and Arjun Raj Jain lead the community built Overline protocol.
"This is not just one business," says Chief Strategy Officer of OMP, Kimberly Guilfoyle. "This is how a new industry is birthed. There has never been more attention on the stock market, never been more attention on blockchains, and never been more attention on the media business. We won't stand by while a few oligarchs rule everything you watch, by the end of 2021 we will have given the power of the news back to the American people."
OMP will announce the next part of OG1 on Jan. 2, 2021.
CONTACT: https://omp.overline.network | (917) 765-4240 | partners@overline.network
Source: OVERLINE MEDIA PARTNERS