OUKITEL P5000 Power Station: The Ultimate Solution to Improve Off-Grid Lifestyles
Press Release
•
May 16, 2023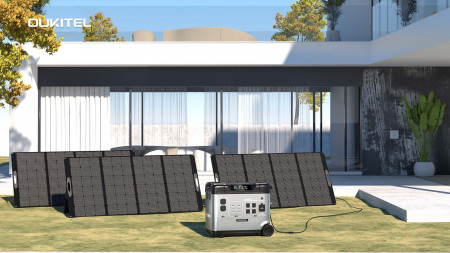 HONG KONG, May 16, 2023 (Newswire.com) - OUKITEL has been in the telecom industry for over 10 years and is renowned for its rugged phones with large batteries. Based on its experience in battery technology, OUKITEL has been committed to the research and development of energy storage products in recent years and has expanded its product line to include energy storage products.
OUKITEL has released the CN505, P2001, and P1201 in recent years. And the latest P5000 (5120Wh capacity/2200W output) came out in early 2023, providing significant energy support for outdoor enthusiasts and workers.
From P2001 to P5000, these portable power solutions are the first step in its plans to expand decentralized energy provision, with the aim being for households and apartments to run entirely off-grid. So, how does the P5000 help users improve their off-grid living? Take a look at the features listed below to learn more. The P5000 is now available on Amazon U.S: https://www.amazon.com/dp/B0C13DZ35P
Energy & money-saving
With 5120Wh massive capacity and 2200W AC output, the P5000 can power 99% of devices such as fridges, ovens, and other high-wattage appliances, answering the call for a larger-capacity power station to ensure a daily power supply during an electricity shortage or to live off the grid.
More surprisingly, users can recharge the P5000 at night, staggering peak electricity consumption to store electricity for use during the day, which is really economical and practical.
Versatile charging methods
The P5000 supports 1800W AC charging, 0%-100% in three hours. It can also be fully charged in five hours via a 1000W solar panel, which reduces grid dependence and promotes the use of solar renewable resources.
Need it to be faster? Using dual input from an 1800W AC outlet and 1000W solar panel, a full charge takes 1.8 hours.
LiFePo4 battery & UPS
The P5000 uses EV-grade LiFePO4 batteries, whose lifecycle can reach 6,500 times. The built-in 1400W seamless UPS with a sub-10ms switchover time keeps all the essentials running.
OUKITEL now has a special promotion for its P5000 power station. Currently $500 off, OUKITEL followers can use code PRJOMEEY to save an additional $100, final price at $3,399. Product's link is: https://www.amazon.com/dp/B0C13DZ35P
Message from CTO Solin Shawn
"We are committed to a sustainable future and making renewable energy solutions accessible to everyone," OUKITEL's CTO Solin Shawn said. "We are confident that our products will contribute to a greater understanding of off-grid living, the necessity for energy conservation and sustainable living."
About OUKITEL
OUKITEL started trading in the energy storage market in 2017. By 2023, it has launched a series of power stations and the upcoming BP2000/4000 (expandable capacity up to 16kWh). OUKITEL strives to make energy storage products less unattainable and is committed to providing affordable and high-quality devices for all families globally.
To learn more information, please follow OUKITEL on:
Facebook: https://www.facebook.com/OukitelTech
Instagram: https://www.instagram.com/oukitel_official
YouTube: https://www.youtube.com/@OUKITELMobile
Source: OUKITEL CO., LIMITED