OUKITEL ABEARL P5000 Pro: 5kWh Portable Energy Storage System With 4000W Output Launched on Kickstarter
Press Release
•
Feb 9, 2023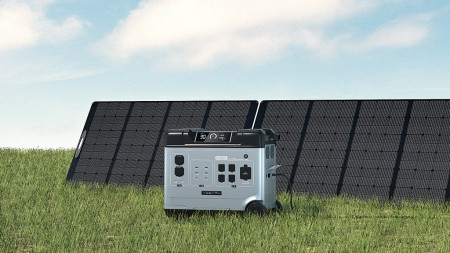 HONG KONG, February 9, 2023 (Newswire.com) - OUKITEL has launched a Kickstarter crowdfunding campaign for its ABEARL P5000 Pro portable power generator. The device uses a premium LiFePO4 battery with up to 5 kWh capacity and a 4000W bi-directional inverter. One ABEARL P5000 Pro unit has a maximum power output of 4000W and can power 240V and 120V appliances at the same time. The power generator offers three recharging options and supports dual input of up to 2800W from AC outlets and solar panels.
The company claims it is the world's first 5kWh portable solar power station with 4000W AC output and 120V/240V dual voltage output. Its special coupons were sold out soon after the campaign was launched. The good news is that the company has unveiled a Spring Special Price on Kickstarter.
ABEARL P5000 Pro/P5000 At A Glance
OUKITEL's ABEARL P5000 Series portable power stations are designed as a sustainable and reliable backup power system for both home and outdoor use.
ABEARL P5000 Pro
5120Wh capacity
4000W AC output (8000W Surge)
120V/240V split phase (US version only)
LiFePO4 battery
3500 cycles
1600W UPS (< 10ms)
ABEARL P5000
5120Wh capacity
2200W AC output (4000W Surge)
LiFePO4 battery
3500 cycles
1400W UPS (< 10ms)
This all-in-one portable power station and solar generator provides an ultimate backup power solution for home, glamping/camping trips, road trips, RVs, EVs, and more.
5120Wh Storage Capacity
With the ABEARL P5000 Pro portable power stations, users can access affordable and reliable electricity anytime, anywhere. The device can store 5120Wh energy derived from the grid and/or solar panels and power essential devices in your house for 1 to 7 days. It can also help users save costs by storing low-cost energy and supplying it during peak periods when electricity prices are higher.
4000W AC Output & 120V/240V Split Phase
A major benefit of the ABEARL P5000 Pro portable generators is AC output of 4000W. It powers and charges almost everything from high-wattage electric stoves, induction cooktops, ovens, and refrigerators to power tools and medical devices. The built-in 120V/240V split phase power system ensures high-wattage appliances, like electric saws, clothes dryers, washing machines, electric heaters, air conditioners, electric vehicles, and RVs, can be safely powered.
Blazing Fast Charging & Recharging Speeds
The portable power station for home packs fifteen output ports, including five pure sine wave AC outlets and two 100W PD USB-C ports. It can be fully charged within 1.8 hours with a combined input of 2800W (AC1800W and PV1000W).
Special Spring Price
OUKITEL has unveiled a limited-time Spring Special price on Kickstarter. Grab this opportunity and you can get the ABEARL P5000 Pro when you pledge US $3,099 to the Kickstarter campaign, which is 48% off its retail price of $5,999. Get the ABEARL P5000 when you pledge US $2,299 to the Kickstarter campaign, which is 54% off its retail price of $4,999.
Source: OUKITEL CO., LIMITED