Organic Food: The United Kingdom Is Putting Quality Before Price
Press Release
•
updated: Oct 5, 2017
Scyphus being a manufacturer of food and beverage packaging products viz. biodegradable and recyclable paper cups and boxes, food safety, food quality and trends in food quality and safety assurance are issues they keep an eye on. In this article, Lez talks about how UK is adopting organic food, increasingly.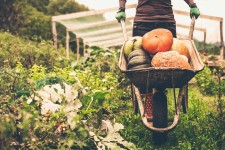 LITTLE HOUGHTON, England, October 5, 2017 (Newswire.com) - An organic food revolution is molding a fresh United Kingdom. Consumers, becoming more health-conscious, are on the lookout for organic food. They are ready to pay more for healthier products. Fueled by this new trend in the eating habits of the population, the organic food market is thriving, outperforming the non-organic market and catching up with global growth rates.
"This article is the opinion of Leslie Carr, Director, Scyphus UK, a manufacturer of Printed Paper Cups, Branded Coffee Cups and other Beverage Paper Packaging Solutions for UK and EU. They manufacturer their Printed Paper Cups, 100% in UK."
Organic food is seen as a shortcut to a healthy lifestyle
The consumers in the United Kingdom want to have access to better food. They want to know where their food is coming from, and also demand to avoid pesticides and antibiotics. This fresh impetus is even urging them to shy away from the traditional tea and pre-packaged bread, and choosing healthier options.
This shift has resulted in a surge in the sales of fresh fish, nuts, fresh popcorn, and fruit and herb alternatives to tea, for instance. While new customers are flooding the organic market, existing ones are increasing the size of their organic baskets.
This trend is expected to soar as social media is increasingly presenting emerging health trends and ingredients. The organic food trend has gained even more momentum as the Organic Trade Board (OTB) launched the #FeedYourHappy campaign, promoting organic food.
The EU-funded £9.1M campaign coincided with Organic September and aims at promoting the emotional aspects of consuming organic food. The campaign consists in featuring advertising across digital channels, outside supermarkets, on trains and billboards, backed by TV presenter Sara Cox and Chef Rosie Birkett. Short movies, logos, and hashtags are also part of the campaign, planned to continue until 2020.
A research conducted by OTB also highlights that 68% of consumers feel happy to consume organic food as "it benefits me, it benefits the animals and it benefits the environment". Two-thirds of consumers equally wish retailers to give further importance to organic food and drinks.
Scientific findings raise alarms on non-organic food
Recent scientific reports commissioned by the European Parliament have highlighted the adverse effects of non-organic food. Consuming food with high levels of pesticides has been found to trigger adverse effects on the brain.
Pregnant women consuming food with pesticides are also at high risk of having babies presenting "adverse mental development at two years of age". These babies are more likely to have "attention problems at three-and-a-half and five years and poorer intellectual development at seven years".
Conventional non-organic food contains pesticide residues even after washing. The use of antibiotics in farm animals is also overly prevalent. This is a key factor in the development of antibiotic resistance in bacteria that can spread from animals to humans.
The UK organic market is viewed as one of the best in the world
At the beginning of 2017, the UK organic market was valued at £2.09 billion and it is expected to enjoy a constant growth. Already, it represents 4% of global organic sales. Many countries in the Far East and in Europe, as well as the United States, consider the UK organic market as one of the best possible organic markets. Germany is the leading organic market in Europe and France comes at the second place. The UK market is positioned third.
Non-organic food, on the other hand, is witnessing a decrease. In the same vein, organic farming in the UK is flourishing: the number of farmers applying for Soil Association Certification soared by 13.5%. 49% of the licensees are also exporting organic products valued at £250M. Brexit is also expected to urge farmers to innovate and expand businesses with the potential of organic farming.
Certain fast-food outlets are converging towards organic food
The organic food wave is also pushing supermarkets, restaurants and fast-food outlets to up their game by increasing organic offer. It is estimated that the average Briton spends over £1,000 yearly solely on fast food. Losing this slice of the food market would be disastrous for businesses in the industry, as concludes a recent report by Mintel. The report establishes that companies that react quickly to health trends on social media have a distinct advantage over other businesses.
While certain supermarkets, restaurants and food outlets are forced to adapt to attract consumers, others saw this trend as an opportunity to strike while the iron is hot. Supermarkets like the Planet Organic, the largest fully certified organic supermarket in the United Kingdom, are also booming. Some restaurants and fast-food outlets are sprouting across the United Kingdom, founded strictly on organic food, and fuelled by consumer demand. Whether clients wish to have a burger and chips, pasties and sausage rolls, pizza, or fish and chips, all this is available in purely organic versions.
One of the popular restaurants in the United Kingdom, running on organic food, is Leon. The founders created the restaurant with the aim of serving tasty food that does good to the body too, unlike traditional fast food, tasting good but causing much harm to the health. An astoundingly wide array of organic food and drinks are proposed. Even organic coffee, made from 100% Arabica beans, is proposed. The coffee is not only unadulterated by pesticides but also supports farmers. UK organic milk is also part of the ingredients. The coffee is served in biodegradable, compostable and recyclable paper cups.
To cater for the massive number of consumers wishing to opt for takeaway food, the organic food outlets and restaurants are having to follow the trend and offer online ordering systems and home delivery options to stay competitive. Several websites have mushroomed on the Internet, providing links to organic restaurants and food outlets, as well as delivery options in the United Kingdom.
Source: Scyphus, UK