Ordering Plants Online Offers Many Benefits
Press Release
•
updated: Mar 7, 2017
The editors at www.HomeGardenandHomestead.com offer the top five reasons to order plants online this spring.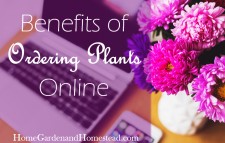 Santa Fe, New Mexico, March 7, 2017 (Newswire.com) - ​​​​​The Internet has transformed the way we socialize, learn and shop. For gardeners and homeowners, the internet has even changed the way we find and purchase plants.
There's nothing wrong with driving to the local garden center, finding a place to park, and hauling plants home in the car. But ordering plants online is so much simpler. Plus, shopping for plants online provides access to thousands of species and varieties—sometimes straight from the plant breeders and growers. The best part is plants can be delivered to the doorstep at the perfect time for planting in your area.
Buying plants online is convenient, fast and affordable. Websites offer a huge selection of garden and landscape plants, and savvy online retailers ship the plants at the perfect time for planting in your area.

Randall D. Schultz, Editor, HomeGardenandHomestead.com
Here are five reasons to consider ordering plants online this year:
1. Convenience
It's hard to beat the convenience of browsing through an online catalog from home, ordering the perfect plants, and having them delivered right to your door. Garden websites release their spring and summer selections as early as January, so there's lots of time to spend a cozy winter or spring afternoon browsing plants, placing an order, and kicking back until the plants arrive.
Don't worry about ordering plants too soon. Online companies ship plants according to zip code only after it's safe to plant them based upon the last-spring-freeze date. Want to get started? Check out Wayside Garden's online catalog at www.waysidegardens.com/view-ecatalog/a/301/ that features dozens of new varieties of flowering perennials including clematis and hydrangeas.
2. Support and Information
Ordering plants online doesn't mean sacrificing customer support or the ability to ask a knowledgeable horticulturist a question about whether a particular type of plant will grow in local conditions. In fact, most online nurseries offer great customer service and can answer all kinds of gardening questions.
Posted on every online product page are details about plant color, size, water requirements, and more. The photos show different views of each plant, and sometimes there are even educational online videos. Also online are blog posts about maintenance and landscape design. At www.AmericanMeadows.com there are even garden experts available to answer your questions on the toll-free line during business hours.
3. Selection
Online nurseries offer a dizzying selection of plants that can be ordered weeks before they become available at a local nursery. Unlike brick-and-mortar stores, online retailers don't have to spend the time, money and real estate on a physical retail location. Instead, they can get plants directly from highly productive greenhouses and nurseries located where growing conditions are ideal. The result is an incredible variety of perennials, trees and shrubs.
For example, www.JacksonandPerkins.com , one of the country's most respected rose growers, has an online catalog that features hundreds of different rose varieties—many of which aren't sold anywhere else.
4. Quality
Some first-time shoppers may hesitate to purchase a plant based on a picture online. Fortunately, a good Internet-based nursery won't skimp on quality. In fact, nurseries such as www.HighCountryGardens.com are run by expert horticulturists who take pride in the plants they grow and sell. To ensure peace of mind, a reputable online retailer will offer a warranty on their plants.
5. Price
Buying plants online can be less expensive than buying plants at a local retailer. Thanks to lower overhead costs, online retailers can pass on savings to their customers. Online nurseries, especially large ones such as www.NatureHills.com, frequently offer great deals and flash sales. To save even more, sign up for the email lists or newsletters of online sellers to get the inside scoop on clearance items, vouchers and promotions. Shop around and you may be pleasantly surprised at how inexpensive the plants and shipping can be.
Ready, Set, Order!
With hundreds of online plant retailers to choose from, it's important to take the time to do some research before ordering. Choose a large, established online nursery with a good reputation. Before buying plants, check out the nursery's shipping policies and plant guarantees.
To make sure that plants arrive safely, online nurseries typically have some restrictions on shipping in extreme cold or heat. That ensures high-quality, vibrant plants will arrive. One more tip: make sure to get plants in the ground as soon as possible after they arrive.
Source: HomeGardenandHomestead.com
Related Media