Opening Night for Carter's Biz Cafés Hosting of 2nd Annual North Bay Art & Film Festival October 6, 2017
Carter's Biz Café located at the Benicia Arsenal across from the Clock Tower to host Second Annual North Bay Art & Film Festival during October 6-8, 2017. Here is the opening day's schedule for this year's kickoff event!
Press Release
-
updated: Oct 6, 2017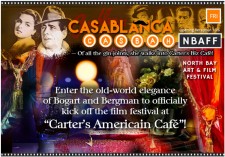 Benicia, California, October 6, 2017 (Newswire.com) - ​​It's finally here!  The kickoff event for Carter's Biz Cafés Second Annual North Bay Art & Film Festival (NBAFF) begins tonight, an annual three-day event showcasing independent films and select artists from Northern California and countries around the globe. The event was created by independent filmmakers with the sole purpose to showcase and screen new and upcoming talent.
The Festival will be held in the artistic waterfront town of Benicia, California in the historical Arsenal district, where there is a campus comprised of two former military venues. The opening night venue is the Commanding Officer's Quarters, now home to Carter's Biz Cafes, a cutting-edge, co-working and business development center. There is enough FREE PARKING for well over three hundred cars.  For the full Festival schedule, please go to https://northbayartfilmfest.com/festival-schedule/ .
Here are the details for Opening Night:
Casablanca Casbah – Opening Reception
Friday, October 6th, 6:00 pm – 9:00 pm 
Enter the old-world elegance of Bogart and Bergman to officially kick off the film festival at "Carter's Americain Café"! We'll indulge in sumptuous French-Moroccan small bites, get photographed with filmmakers, while succumbing to the lure of the casino in our glamorous gin joint! And Sam WILL play it again…
Opening Reception: Live Music
Musical performers:  Amanda and Terrence Elliott
Spotlight On Terence Elliott Nyman Music
Want to hear music from a Master?  Dr. Terence Elliott (The Professor) will satisfy with an intelligent mix of talent.  The world is in for a treat because JAZZ ain't Nothin' but Soul.  Listen and enjoy! 
Opening Reception: Food & Beverage
Caterers:  Chef Eileen & Baker Sy
Tantalize your taste buds with Chef Eileen's small bites! Satisfy your sweet tooth with Baker Syrene's confections!
For tickets, please visit: www.northbayartfilmfest.com .  Note: There is now a special " New Senior (60+) Pricing" for Friday Night's Casblanca Reception"!  For additional information, contact mlouvigny@gmail.com.
Source: Carter's Biz Cafés
---
Categories: Movies, Conventions, Trade Shows, Meetings and Events, Arts and Entertainment
Tags: arts, Baker Sy, Benicia, Business, Carter's Biz Café, Chef Eileen, Dr. Terence Elliott, film festival, movies, NBAFF, Solano County
---