Only Available at Tanner: Secure-Bolt Plus Concrete Screw Anchors
Press Release
•
Jul 19, 2022
The Secure-Bolt Plus is a one-piece, heat-treated heavy-duty screw anchor manufactured from carbon steel. It is designed to work for most applications and can be used in various tough base materials such as concrete, block, brick, or stone.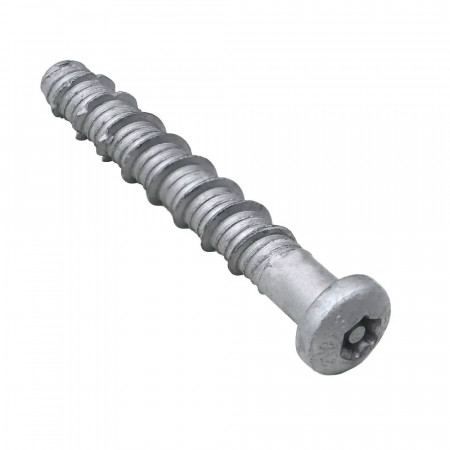 BROOKLYN, N.Y., July 19, 2022 (Newswire.com) - Tanner is pleased to announce the product launch of a new tamper-resistant concrete screw anchor. The Secure-Bolt Plus with Tanner Guard+ coating is a one-piece, heat-treated heavy-duty screw anchor.
The Secure-Bolt Plus is available in two head styles: Button Head with Serrations and Flat Head Countersunk. Two standard diameters are available, 3/8" and 1/2", and two lengths, 3" and 4".
The advantages of the Secure-Bolt Plus concrete screw anchors are both practical and economical. The specially designed serrated threads cut into the sides of the hole and create a mechanical interlock between concrete and threads. The serrations under the button head screw will grip the fixture, adding vibration resistance. Secure-Bolt Plus is the choice when specifications call for medium and heavy-duty loads. The Torx® equivalent 6-Lobe tamper-resistant drive limits tampering and theft. Tanner Guard+ offers multiple coating protection composed of a layer of zinc plating and two layers of epoxy organic coating exceeding 700 hours before any red corrosion appears.
Features of Secure-Bolt Plus Concrete Screw Anchor
Solid One Piece Assembly that is Quick and Easy to Install
Multi-layer Corrosion Resistant Comprised of Zinc Plating & 2 Layers of Organic Epoxy Coating
Prevent Theft & Vandalism in Volatile Environments, including Detention Facilities, High Traffic Public Areas, and more
Tamper-Resistant Security Drive, 6-Lobe Torx® Equivalent
When working with tough base materials such as concrete, block, brick, or stone and theft, tampering or corrosion is a concern, our new Secure-Bolt Plus should be your choice.
For more information or to order, visit us at https://www.tannerbolt.com/security-products/security-anchors/secure-bolt-plus-concrete-screw-anchors
Tanner Bolt & Nut Inc., established in 1979, is a nationwide distributor of premium industrial and security fasteners, code-compliant anchors, safety products, and power tool accessories. For over 40 years, Tanner's knowledgeable sales and support staff has committed to a customer-first approach, delivering innovative quality products. Tanner partners with over 50 well-known quality brands that provide our customers with industry-leading experience, innovation, and quality control.
Media and Sales Contact:
Tanner Bolt & Nut Inc.
Eddie Burlem
718 434-4500, eburlem@tannerbolt.com
Source: Tanner Bolt & Nut Inc.
Related Files