OneShare Health Excited to Name Allen Kerr as Senior Executive Vice President of Regulatory Affairs
Press Release
•
updated: Apr 8, 2020
As a Tenured Past Insurance Commissioner, Kerr Evaluates Health Care Compliance Standards and Applies Them to OneShare Health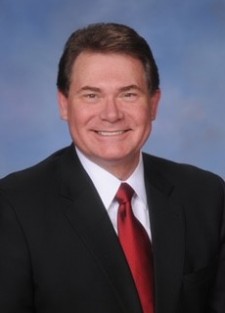 IRVING, Texas, April 8, 2020 (Newswire.com) - ​​​​​OneShare Health, a Christian-based Heath Care Sharing Ministry (HCSM) based in Irving, TX, continues to grow its expanding company by adding Arkansas's most recent State Insurance Commissioner Allen Kerr to their Board of Directors. Kerr was appointed State Insurance Commissioner by Governor Asa Hutchinson in 2015. As a Cabinet-level official, he maintained authority over all aspects of the insurance industry and served on various committees and task forces, including as a voting member of the Government Relations Legislative Committee (GRLC).
In addition to serving as a previous elected member on the National Insurance Producer Registry (NIPR) Board of Directors, as well as Committee Chair and Vice Chair on the National Association of Insurance Commissioners (NAIC), Kerr's expertise extends considerably into the legislative realm. From 2008 to 2014, he served as an elected member in the Arkansas House of Representatives, District 32, in Little Rock, AR, overseeing matters pertaining to public retirement and social security, revenue and taxation, as well as state and public school life and health insurance. Since 1980, Kerr has been an active insurance professional, stating he is "passionate" about the industry and "doing business the right way," having spent four decades running his own business.
Today, Kerr holds the title of Senior Executive Vice President of Regulatory Affairs at OneShare Health. His duties include helping navigate the regulatory industry as it affects OneShare Health and its Members. As a board member, Kerr assists OneShare Health in establishing and maintaining its goals as a health share ministry and ensures the company has adequate, well-managed resources at its disposal.
"Some of my talents are building organizations and serving people wherever I can help," said Kerr. "As OneShare Health is a young organization, I see a lot of potential opportunity to help build and create a truly great organization. This company is poised to grow quickly, not just as a health sharing entity but one that helps people on many levels, in addition to sharing their health needs."

About OneShare Health: OneShare Health is an ACA-exempt, non-profit, Christian Health Care Sharing Ministry (HCSM) based in Irving, Texas, that facilitates the sharing of medical expenses among individuals and families who are united by a set of shared religious beliefs. Healthcare sharing ministries are not traditional health insurance and do not accept risk or make guarantees regarding payment of bills submitted by members.
For Media and Press Inquiries Contact:
Buddy Combs
1-888-940-8291
Source: OneShare Health
Additional Links