One Man Show Paints WAR, PTSD, and SACRIFICE [From the American Revolution to Afghanistan]
Press Release
•
updated: Oct 29, 2015
Actor Douglas Taurel Honors Veterans in "The American Soldier"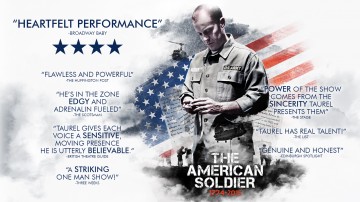 New York, NY, October 29, 2015 (Newswire.com) - Experienced stage, film, and television actor, Douglas Taurel, performs his powerful and passionate solo show The American Soldier at the Midtown International Theatre Festival. Based on real stories and factual accounts from actual soldier and family member letters written from the American Revolution all the way through current day Afghanistan, it examines the internal struggles and problems that soldiers face when returning home from combat.
In a 55-minute tour de force, enhanced by an ingenious interplay of sound and lights, Taurel enters into the personas of 14 veterans and their family members, telling their story of courage and sacrifice. The American Soldier exposes their flaws, and their scars, with both humor and darkness. The American Soldier is not simply a play, but a journey through the American story, moments that resound with lasting meaning for both audiences old enough to remember, and those young enough to yearn for inspiration.
"Taurel commits totally to his characters in every circumstance...flawlessly and powerful."

The Huffington Post
Taurel explained, "This is a true work of passion and I deeply hope that audiences will go away with a deeper appreciation of the tremendous sacrifice our servicemen and servicewomen, and their families, have made for our country."
"Taurel gives each voice a sensitive, moving presence...he is utterly believable" -British Theatre Guide
"He's in the Zone. Edgy and Adrenaline Fueled" -The Scotsman
Taurel's screen credits include playing tough and edgy characters in television programs including Nurse Jackie, Believe, NYC 22, Damages, The Americans, Person of Interest, Blue Bloods, and The Following. His recent film credits include a supporting role in the 2015 feature film The Cobbler, starring Adam Sandler and Dustin Hoffman.
The play is directed by Padraic Lillis who was recently named to the Indie Theater Hall of Fame and Indie Theater Person of the Year in New York. Learn more about The American Soldier by visiting www.TheAmericanSoldierSoloShow.com

Images: bit.ly/1I4e9mU
Twitter: @DouglasTaurel
Facebook: https://www.facebook.com/DouglasTaurel
Venue: The Jewel Box Theatre, 312 West 36th street, 4th Floor
Tickets: https://web.ovationtix.com/trs/pe.c/10047544
Dates: November 18 @ 7:15pm, November 20 @ 7:30pm, November 22 @ 3:45pm
Time: (55min)
Contact Douglas Taurel at Douglas@DouglasTaurel.com
Cell: (917) 734-4570
Related Media
Tags