Omega3 Innovations Named 2017 SupplySide Editor's Choice Award Finalist
Omega Restore Recognized Among Top Anti-Aging Products for Innovation and Market Impact.
Press Release
-
updated: Aug 29, 2017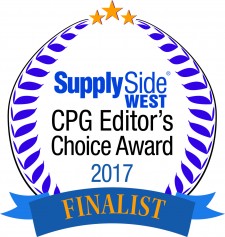 VENICE Fla, August 29, 2017 (Newswire.com) - Informa Exhibitions has named Omega3 Innovations' newest product, Omega Restore™, as one of its finalists for the 2017 SupplySide CPG Editor's Choice Awards.
Five consumer packaged goods (CPG) products were selected for achievements in innovation and market impact in 27 different categories, whittled down from nearly 400 international applicants. Omega Restore, which combines fresh omega-3 with melatonin in single-dose vials, was named to the short list in the anti-aging category.
This is the second time Omega3 Innovations has been named a finalist for the SupplySide Editor's Choice Awards. In 2013, Omega3 Innovations won the omega-3 category with Omega Heaven®, a gluten-free breakfast cookie combining 1000 mg of EPA/DHA omega-3 fatty acids with oat fiber and non-alkalized dark chocolate.
"Being named a finalist again is a wonderful honor," said Anne-Marie Chalmers, MD, co-founder of Omega3 Innovations along with her husband Bo Martinsen, MD. "We're a small business; but in spite of that, we beat out several big players in the omega-3 industry in 2013. The Editor's Choice Awards recognizes innovation and is a great platform for introducing new products."
In each single-dose vial, Omega Restore delivers 3000 mg of EPA/DHA from pharmaceutical-quality, fresh omega-3 oil, plus the customer's choice of 2, 3, 5 or 9 mg of melatonin. The melatonin is dissolved in the cod liver oil, which the co-founders say improves the synergy of the ingredients.
"Besides providing a highly potent combination, Omega Restore has no taste and is easy to drink, particularly for older customers who are tired of swallowing handfuls of medication," said Dr. Martinsen. "Omega-3 and melatonin are being used in cancer treatments and to help with sleep and pain issues. However, the success of traditional supplements is often limited by spoiled ingredients, low doses, and poor compliance. That's where Omega Restore can make an especially big difference."
The winner of the anti-aging category will be announced at SupplySide West 2017 on Sept. 27 at Mandalay Bay Resort in Las Vegas, Nevada. For more information about Omega Restore, visit www.omega3innovations.com.
About SupplySide West:
Hosted by Informa Exhibitions, SupplySide West brings together more than 15,000 ingredient buyers and suppliers from the dietary supplement, beverage, functional food, personal care and sports nutrition industries. SupplySide West is all about the science and strategy around the development of finished products that drive the global business economy. This year's event takes place Sept. 25 to 29 at Mandalay Bay in Las Vegas. For more information visit www.supplysideshow.com.
Source: Omega3 Innovations
Share:
---
Categories: Active and Healthy Living, Nutrition, Medicinal Foods
Tags: anti-aging, awards, cod liver oil, fish oil, innovation, melatonin, nutrition, omega-3, small business
---