Omega3 Innovations Launches Combination of Fresh Omega-3 With Melatonin for 'More Restful Sleep and Energy'
Press Release
-
updated: Jul 18, 2017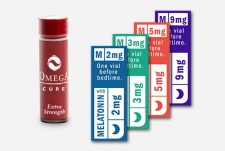 Venice, FL, July 18, 2017 (Newswire.com) - Omega3 Innovations has a new product. Omega Restore™ combines fresh Omega Cure® cod liver oil with pure melatonin in single-dose vials. Each vial delivers 3000 mg of EPA/DHA omega-3 fatty acids with an option of either 2, 3, 5 or 9 mg of melatonin.
Omega3 Innovations' physician co-founders say they created Omega Restore to promote better sleep quality and daytime energy.
"Sleep disorders are on the rise, and particularly with the increase of light pollution and use of technology at bedtime, many people are disturbing their body's natural production of melatonin," says Dr. Anne-Marie Chalmers, co-founder of Omega3 Innovations with her husband Dr. Bo Martinsen. "Omega Restore is our antidote to modern living."
Both common nutritional supplements, omega-3 fatty acids, and melatonin may initially seem like strange bedfellows. Omega-3 fatty acids, found in fish and fish oil, are best known for their anti-inflammatory benefits and role in promoting brain, heart, and joint health. Melatonin is popular as a jet lag aid and sleep regulator. In the cell, however, the doctors say these molecules are more intimately connected than people realize.
"There is a small body of research looking at the combination of omega-3 and melatonin," says Dr. Martinsen. "They are finding that melatonin has protective benefits for the omega-3 molecules, as well as help increase the omega-3 levels in the brain. And both molecules appear to work together to fight chronic inflammation and aging."
The doctors say this synergy between omega-3 and melatonin makes a substantial difference for the consumer by actively scavenging free radicals and providing important molecules for the brain. 
"Taking Omega Cure with melatonin has a more potent effect than swallowing omega-3 capsules together with a melatonin tablet," says Dr. Chalmers. "That's part of what makes this product so interesting. The ingredients appear to be stronger when mixed together."
To learn more about Omega Restore, visit www.omega3innovations.com or call 866.414.0188.
 
###

Founded in 2006, Omega3 Innovations is 'The Fresh Cod Liver Oil Company.' Based in Venice, Florida, Omega3 Innovations makes fresh, full-spectrum Omega Cure cod liver oil, as well as omega-3-rich cookies and chocolates. Omega3 Innovations won the international SupplySide Editor's Choice Awards for innovation in the omega-3 category in 2013. The company is led by Dr. Bo Martinsen and Dr. Anne-Marie Chalmers, two omega-3 specialists who practiced family medicine in Norway before founding the company.
Source: Omega3 Innovations
Share:
---
Categories: Active and Healthy Living, Nutrition, Medicinal Foods
Tags: anti-aging, fish oil, health, melatonin, nutrition, omega 3 fatty acids, omega-3, sleep, supplements
---