Omega Releases Groundbreaking Non-Invasive Temperature Sensing Technology for Metal Tanks
Press Release
•
Jun 7, 2023
HANI Tank Temperature Sensors Mount Outside, Measure Inside Metal Tanks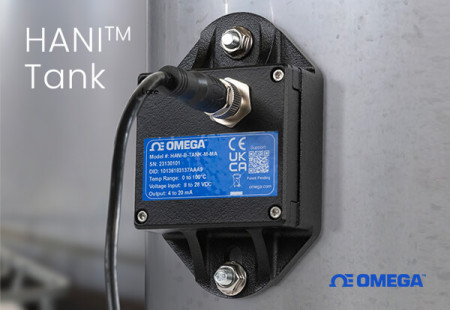 NORWALK, Conn., June 7, 2023 (Newswire.com) - Omega Engineering, a leading force in temperature measurement innovation for six decades, announces the launch of the newest model of its groundbreaking HANI™ High Accuracy, Non-Invasive Temperature Sensing technology: The HANI Tank Temperature Sensor for Metal Tank Applications.
HANI Tank sensors feature the same award-winning technology used in HANI Clamp Sensors for Pipes built into a sensor package that can read in-tank process media temperatures without the costly, time-consuming installation and downtime associated with installing invasive, in-tank temperature sensors.
Unlike invasive sensors, HANI Tank Sensors mount to the outside of a metal tank and read the temperature of the process media inside the tank. And, because HANI Tank Sensors never come into direct contact with the process media inside of the tank, there is no risk to the process during sensor installation or operation and no chance of sensor damage from internal tank mixers or agitators.
That means:
No Drilling
No Cutting
No Downtime
No Contamination
"Our HANI Tank Sensors were developed with the objective of delivering a better, more efficient, and more cost-effective alternative to the status quo method for accurately measuring the temperature of fluid media in a tank," says Ken Leibig, Director of Engineering at Omega. "With the proprietary algorithm we've developed, the HANI sensor does what few thought was possible: it achieves the accuracy and performance of an immersion sensor without all that hassle. And now, with new HANI Tank sensors, this technology is becoming even more universal in its application."
Lower the total cost of ownership and reduce contamination risks without sacrificing any accuracy or performance by choosing a HANI Tank Sensor.
About Omega
Founded in 1962 to manufacture a single thermocouple line, Omega Engineering has grown into a leading international, integrated, single-source supplier of highly engineered products and customized solutions for the industrial processing, aerospace, chemical and petrochemical, medical and pharmaceutical, and food and beverage markets. With over 700 employees, operations at Omega include research and development, engineering and manufacturing, calibration, sales, marketing, distribution, expert technical support, and customer service. Omega designs and manufactures more than 100,000 state-of-the-art, innovative products for the measurement and control of temperature, humidity, pressure, strain, force, flow, level, pH, and conductivity.
Source: Omega Engineering, Inc.