OMEGA Introduces Feature-Rich Picomag From Endress+Hauser
Press Release
•
updated: Jul 7, 2020
An alternative to mechanical flow meters for measuring conductive fluids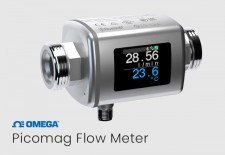 NORWALK, Conn., July 7, 2020 (Newswire.com) - Omega Engineering Inc. and Endress+Hauser have announced that the Endress+Hauser Picomag range of pocket-sized magmeters will be added to the extensive web-based Omega product portfolio. This maintenance-free Picomag not only measures the flow of conductive fluids with higher accuracy but also their temperature and conductivity for reliable measuring and monitoring of various industrial liquids. Picomag offers a user-friendly field display, easy commissioning with Bluetooth wireless technology, and seamless system integration to IO-Link technology for operation via process control systems.
Customers value the space-saving Picomag for its flexible installation capabilities and superior measurement performance. Additionally, its intuitive operation via the SmartBlue app on every Bluetooth-enabled smartphone or tablet ensures fast, secure, and simple commissioning. "Omega has an experienced sales and application team that can expertly guide their customers to the best solution," Rob MacKenzie, Corporate Sales Director at Endress+Hauser commented.
"We see Picomag fulfilling an important role in our digital measurement strategy. The Picomag can offer our customers a compact and versatile, cost-effective flow measurement solution at a market-leading price point," commented David Tipton, VP of Sales EMEA and APAC.
OMEGA™ (part of Spectris Plc) is an established global leader in the technical marketplace, offering more than 100,000 state-of-the-art products for measurement and control of temperature, humidity, pressure, strain, force, flow, level, pH and conductivity. OMEGA also provides customers with a complete line of data acquisition, electric heating, and custom engineered products.
Endress+Hauser is a global leader in measurement instrumentation, services, and solutions for industrial process engineering. Providing process solutions for flow, level, pressure, analytics, temperature, recording and digital communications, optimizing processes in terms of economic efficiency, safety, and environmental impact. Customers come from various industries, including chemical, food & beverage, life sciences, power & energy, mining, minerals & metal, oil & gas, and water & wastewater.
Source: OMEGA Engineering Inc.