Olono and Strategic Growth Announce Partnership, Bringing Sales Activity Automation to Large, B2B Sales Organizations
Salesforce Gold Consulting partner to provide Olono customers with deep implementation expertise, delivering customized Next Best Actions that help reps close more deals in fewer steps
Press Release
-
updated: Sep 24, 2018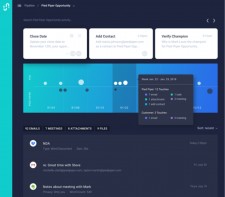 AUSTIN, Texas, September 24, 2018 (Newswire.com) - Olono, the leader in sales activity automation, and Strategic Growth, a Salesforce Gold Consulting firm, today announced a partnership, making it easier than ever for B2B sales organizations to improve sales process adoption, increase pipeline visibility and automate sales activities—to ultimately fuel top line growth.
Today's sales reps and sales managers are inundated with data and reports, but face challenges turning those insights into Action. Olono's Sales Activity Automation platform automatically captures all sales activity then proactively recommends—and frequently automates—the most effective Actions for sales reps to take for each opportunity. As a result, sales leadership gets immediate, real-time visibility into true opportunity status, while sales reps are coached in the moment on the most effective sales activities to close deals.
With more than 1,700 Salesforce implementations, Strategic Growth has deep expertise across Salesforce Sales Cloud, Service Cloud, Custom Cloud, CPQ, Pardot, Field Service and Integrations. Through this partnership, Strategic Growth will support customers in their Olono deployments, including customizing the Olono Sales Activity Automation platform to trigger Actions—in the moment guided steps to sales reps and sales managers—based on the customer's unique sales methodologies as well as sales activity that has occurred. 
"Olono is solving a major pain point that sales teams face—lack of visibility into rep activity, including steps which have occurred as well as steps which were missed. This blind-spot impacts everything from forecasting to coaching to identifying risks in enough time to save a deal," said Erik Fike, Chief Engagement Officer & Senior Vice President at Strategic Growth, Inc. "Our clients are looking for advanced A.I. and machine learning solutions that ease pipeline management challenges. Together with Olono we're able to help sales managers and leadership immediately gain a complete, real-time view of their pipeline, while providing guided next steps that reinforce their sales process and help reps touch more deals, more often."
Olono automates CRM data entry, so instead of out-of-date, error-filled Salesforce instances, both managers and reps know exactly what steps a rep has followed, as well as those that were missed. Reps love it because they aren't wasting time on tedious tasks, while sales managers and leadership immediately gain a complete, real-time view of their pipeline including opportunity cadence. The result, more accurate forecasting, improved ability to identify risks in time to save, and less time spent tracking down key details and documents.
"Your CRM is only as good as the data it contains. For too long, we've required reps to manually enter their daily activities, wasting valuable hours of active selling. And despite the time commitment, most sales managers don't trust the data in their CRM," said Larry Warnock, president and CEO of Olono. "With automated data capture and guided selling, Olono is proven to increase rep productivity while delivering the actionable data sales managers need to improve both late stage and early funnel movement. We've been impressed by the Strategic Growth team, and are looking forward to working together to drive joint customer success."
Available as a tab in Salesforce, a standalone app or a mobile app, Olono features integrations to 70+ sales tools, including email applications, calendars, browser data and other apps used by sales teams. Olono Actions introductory pricing starts at $10/month per user and includes mobile access. For more information visit https://www.olono.ai or contact sales@olono.ai.
About Olono
Olono is Sales Activity Automation. A SaaS-based solution, Olono leverages the sales and marketing application investments organizations have already made, capturing all sales activity and digital exhaust from any source—then automating actions to drive consistent, predictable sales execution. Headquartered in Austin, Texas, Olono is trusted by B2B sales reps and management to improve pipeline visibility, increase sales process adoption and reduce rep ramp time. For more information, visit: www.olono.ai.
About Strategic Growth
Strategic Growth was formed in 2007 by initial members of the Salesforce consulting organization with a sole focus on providing Salesforce expertise and best practices. A Gold Partner with offices in Austin, Chicago, Dallas and Houston, Strategic Growth provides deep experience in Sales Cloud, Service Cloud, Custom Cloud, CPQ, Pardot, Field Service and Integration through providing Best Practice expertise. For more information, visit: https://strategicgrowthinc.com.
Source: Olono
Share:
---
Categories: Customer Relationship Management
Tags: crm adoption, pipeline management, sales activity automation, salesforce sales cloud
---