Oliver's Harvest Releases 1000 Mg CBD Tincture, Completing Line of Broad-Spectrum, Zero-THC Oral Drops
Press Release
•
updated: Apr 12, 2019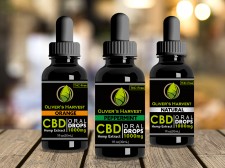 WELLINGTON, Fla., April 12, 2019 (Newswire.com) - ​Oliver's Harvest is shaking up the hemp market again with its newest extra-strength CBD drops. The highly concentrated oral drops contain 1000 mg of Oliver's Harvest proprietary zero-THC, broad-spectrum hemp extract. Broad spectrum means that the potency of the tincture is exponentially stronger than that of oils containing CBD alone. Zero-THC is another advantage of the tincture, as it does not pose any risks for THC-sensitive consumers or those who are concerned about drug testing.
Oliver's Harvest extra-strength tinctures were developed for those who struggle with anxiety, pain, joint issues, sleeping issues and neural degeneration. They provide full-body effects, reducing inflammation anywhere in the body where the immune system is overly active. Each serving is only half a dropper of 0.5 mL and contains 16.7 mg of CBD extract, making a single dose strong and effective. The tinctures act quickly through a sublingual (under the tongue) delivery method. Consumers simply squeeze a pipette with the tincture under their tongue and wait for 30-40 seconds for CBD absorption through the numerous blood vessels under the tongue.
The full line of Oliver's Harvest CBD oil drops now features medium, strong and extra-strength CBD tinctures.
"For overall well-being, we recommend medium tinctures with 250 mg of hemp extract per bottle. Depending on the severity of consumers' anxiety, pain, sleeping disorders and other issues, they can now also choose between 500 mg and 1000 mg bottles CBD tinctures," said Oliver Suess, owner of Oliver's Harvest. "We were working on developing extra-strength CBD tinctures because some of our customers deal with strong anxiety or transition from prescribed pain medication. A recent study by Gallup showed that 78 percent of the adult population prefers to try other ways of pain management to prescribed pain medication; not a surprising fact, given there were more than 33,000 deaths from opioid overdose in 2015."
The tinctures are available in three flavors – natural, orange and peppermint. One of the distinctive features of the tinctures is that they are much less thick than oils and are pleasant to taste. They are a great companion to hot tea and coffee; however, Oliver's Harvest recommends the sublingual delivery method for the highest level of absorption.
Oliver's Harvest hemp products have been recognized for their quality and effectiveness in the CBD market since day one. The owners of Oliver's Harvest have more than 30 years of experience in the health care industry, and Oliver's Harvest takes CBD products to a pharmaceutical level of high standards. The company fully controls the quality of its products' manufacturing, uses organic farming practices and gets third-party lab tests. In addition to its regular hemp products, Oliver's Harvest combines CBD with other therapeutic agents to bring extra-strength relief for specific conditions. Oliver's Harvest also has a line of edible CBD products, such as gummies and Honey Stix for general wellness support. Today, Oliver's Harvest products sell online, in pharmacies and in hemp products distributors across the United States.
Customers can head to www.OliversHarvest.com or call toll-free at (866) 634-3134 to learn more.
Source: Oliver's Harvest
Related Files