Milan Ristic, a Young Athlete, Becomes a Brand Ambassador for Oliver's Harvest CBD Products After His Battle With Cancer
Press Release
•
updated: May 16, 2019
Milan told his story of discovering CBD products. He started using them for sleep and tight muscles. Later, during chemotherapy, CBD helped Milan to suppress nausea and other side effects.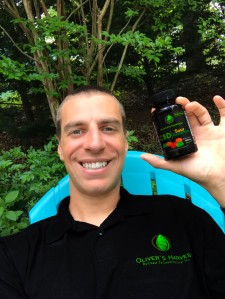 WELLINGTON, Fla., May 16, 2019 (Newswire.com) - Oliver's Harvest a CBD products manufacturer, is gaining increasing popularity among people who prefer natural remedies, medical professionals and, not surprisingly, athletes. Milan Ristic, a Serbian track and field athlete who specializes in hurdling, has become an advocate for the Oliver's Harvest brand. To present his story of discovering CBD products and using them during his battle with cancer, Oliver's Harvest had the pleasure of interviewing Milan.
Hi Milan! Thank you for being with us today. Please tell us about your experience with CBD: how did you find out about CBD products and how did they help you?
Being a professional athlete, there are so many supplements that help you recover and get better sleep. Well, I tried probably most of them and hardly any of them were helpful. Mainly I tried CBD because of sleep and tight muscles. In the beginning, I really didn't think it would be helpful, but it ended up being amazing. I started using it a little more than over a year ago, then I got diagnosed with testicular cancer and that is when I started using it more and not just for sleep and tight muscles.
It helped me with nausea and all the other side effects that come with chemotherapy. I couldn't believe it worked just like that. I recommended it to a few friends and some family members and they also loved it.
This is impressive. I am glad that you are healthy today.
How did you meet the Oliver's Harvest team and why did you decide to advocate their brand?
I actually sat on a plane with Oliver himself and had no clue about it. We met through a mutual friend a few days later and that mutual friend got us in touch via email, then everything started from there. The Remedy Health & Wellness store here in Asheville sells Oliver's Harvest goodies and I tried them before I even knew what CBD was. My favorite ones are the gummies and rub-on spray. I also like the peppermint drops. I think Oliver's Harvest is a great brand because their product is THC free and as a professional athlete I can appreciate that and not worry about getting tested positive while taking the supplements. The company is doing something special, using everything natural and not processed stuff. That's another reason why I see myself partnering with them.
I also prefer peppermint flavor, but the honey stix are my number one choice. But let me ask you, which products are your favorite out of the Oliver's Harvest line and what do you use them for?
I love the gummies because they are a little sweet and I love the taste of them. I use them when I wake up and one after practice just to keep muscles from getting too tight. I also use the drops before bed because it helps me go to that deep sleep; I wake up super relaxed in the morning and ready to tackle my day. Another product that I use is spray rub-on. I use it at practice or right before practice and when needed; just keeps certain areas less inflamed. I need that to have complete control and mobility over my body. It is very important in what I do.
Glad it works so well for you. As an advocate for CBD products, how do you plan to spread information about CBD?
I honestly didn't believe that this stuff works until I started using it myself. I think that the word needs to go out there because it literally helps with everything. I would much rather take something natural than some chemicals/drugs that I don't even know what's in them.
I always speak about benefits of CBD at my speaking engagements and via my social media. It is a great tool to utilize it and let people know how great this stuff is!
Thank you, Milan, for sharing your story. We are glad to have you as a brand ambassador!
We encourage you to learn more about the Oliver's Harvest line of natural CBD products.
Please visit https://oliversharvest.com today or call 866-634-3134.
Source: Oliver's Harvest
Related Media