Off-Label Marketing of Amiodarone Tied to Pulmonary Fibrosis, Lung Disease, Death Warns Consumer Safety Watch
Press Release
-
updated: Sep 27, 2016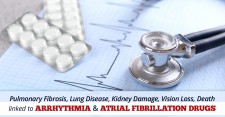 San Diego, CA, September 27, 2016 (Newswire.com) - Amiodarone (Cordarone, Pacerone) is a commonly prescribed drug for treatment of cardiac arrhythmias (heart rhythm disturbances). Unfortunately, it is also potentially the most toxic antiarrhythmic drug, and the most challenging to use safely. For this reason, amiodarone should only be prescribed for people who have life-threatening or severely disabling arrhythmias, and who have no other good treatment options.
When Cordarone was approved, it was approved as a drug of last resort to treat persistent, life-threatening ventricular fibrillation and ventricular tachycardia that would not respond to any other drugs. According to consumer safety advocate Alan Christopher of Consumer Safety Watch, "Wyeth aggressively and successfully marketed Cordarone for off-label use as a 'first-resort' anti-arrhythmic drug which may have led to thousands of unnecessary injuries and deaths."
Wyeth's alleged off-label marketing campaigns were so effective that an entire generation of doctors wrongfully believed Cordarone and its amiodarone equivalents were first-line treatments for atrial fibrillation.
The FDA sent Wyeth warning letters to stop false and misleading promotion of Cordarone that downplayed its risks and promoted it as first-line therapy.
The most feared side effects of Cordarone (amiodarone) are pulmonary (lung) toxicity, pulmonary fibrosis, interstitial lung disease and death because of these side effects. Other side effects include the following:
Thyroid disease
Blindness
Vision loss
Intestinal disease
Toxic Epidermal Necrosis
Rhabdomyolysis
Death
According to Christopher, "Wyeth's off label marketing campaigns for amiodarone for uses never approved by FDA included seminars and articles secretly and deceptively controlled by Wyeth, but presented to medical professionals as independent reliable scientific support for the safety and efficacy of unapproved uses."
Learn more about the risks associated with use of Cordarone, Pacerone and their generic amiodarone equivalents at: http://www.consumersafetywatch.com/pulmonary-fibrosis/pulmonary-fibrosis.
September is Pulmonary Fibrosis Awareness Month. Learn more at http://www.pulmonaryfibrosis.org/get-involved/viewevent/2016/09/01/default-calendar/global-pulmonary-fibrosis-awareness-month
Source: Consumer Safety Watch
Share:
---
Categories: Healthcare and Medical News, Medical Law, Public Safety
Tags: amiodarone, Cordarone, death, interstitial lung disease, lung toxicity, pulmonary fibrosis, pulmonary toxicity
---