Ocrolus Announces PPP Loan Forgiveness Solution With Built-in Audit Trail
Press Release
•
updated: Jun 2, 2020
Fintech infrastructure powered over 500,000 PPP applications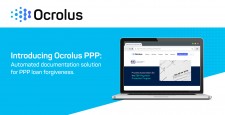 NEW YORK, June 2, 2020 (Newswire.com) - Ocrolus, a leading fintech infrastructure company that transforms documents into actionable data with over 99% accuracy, today announced the release of its PPP Loan Forgiveness Documentation solution. Ocrolus PPP automates the classification and extraction of data from documents required to convert SBA Payroll Protection Program (PPP) loans into forgivable grants.
Since the initial CARES program launched in March, Ocrolus' cloud-based solution has been deployed by numerous lenders to process over 500K PPP applications. Ocrolus captures and digitizes payroll reports, bank statements, tax forms and other documents to substantiate and calculate PPP loan requests. As these loans are now becoming eligible for conversion to forgivable grants, originating lenders are facing the administrative burden of calculating payroll, utility, rent and mortgage payments by each borrower. Additionally, lenders need to document each calculation and provide best efforts to verify that the information is correct.
"We've worked hand-in-hand with lenders to optimize Ocrolus' PPP offering to streamline lenders' loan application and forgiveness programs. To date, we've processed over four million financial documents related to PPP loan applications," explained Douglas Melchior, Ocrolus' Vice President of Product. "For grant conversions, we have added multiple analytics and reporting to validate the values in borrower declarations for PPP forgiveness are accurate and auditable."
The Ocrolus solution also produces a PPP Compliance Report, providing Loan Officers with an at-a-glance snapshot of supporting documentation. The report also provides basic analytics to indicate if the borrower has met the 75% payroll requirement.
As with the PPP loan origination program, Ocrolus is able to quickly on-board lenders with a direct API integration into existing loan origination and servicing programs. For example, Ocrolus worked with one fintech lender to set up their loan application program and accelerate hundreds of thousands of loan applications during the second tranche of PPP funding in less than 10 days.
To learn more about Ocrolus' PPP solution, visit ocrolus.com.
About Ocrolus
Ocrolus is a fintech infrastructure company that transforms documents into actionable data. Powered by Artificial Intelligence and a unique, human-in-the-loop data validation process, Ocrolus plugs directly into customer workflows via API, eliminating the need for manual data work. The solution includes built-in fraud detection and analytics, enabling customers to make smarter and faster business decisions with unprecedented scalability and precision.
Use-cases include loan underwriting, account openings, invoice processing and other document-intensive processes. Ocrolus has raised over $30 million in venture capital, backed by Oak HC/FT, FinTech Collective, Bullpen Capital, and QED Investors, among others. Visit ocrolus.com to learn more.
Media Contact:
Tim Dubes
tdubes@ocrolus.com
+1.909.896.3181
Source: Ocrolus