Live Virtual Roundtable Discussing the Future of Small Business Lending
Press Release
•
updated: May 12, 2020
Executives from Leading SMB Fintechs Advise on Changing Financial Environment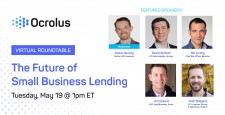 NEW YORK, May 12, 2020 (Newswire.com) - ​The current economic climate has many small businesses wondering how to react and plan for their financial future. Lender agility has never been a more relevant topic: Covid-19 has acted as an accelerator into a new age of funding immediacy. For example, a side-effect of the SBA's PPP program is the world seeing first-hand the ability of fintech lenders to quickly strategize and pivot to meet market demands in a dynamic regulatory environment.
On Tuesday, May 19, experts at leading fintechs BlueVine, Enova, OnDeck, and Ocrolus will discuss strategies to tackle uncertainty and build sustainability in a live, virtual roundtable, "The Future of Small Business Lending."
Hosted by Ocrolus, the roundtable will be moderated by Amias Gerety, Partner at QED Investors. Mr. Gerety brings prior experience as the President's nominee and Acting Assistant Secretary for Financial Institutions at the U.S. Department of the Treasury. In that role, he was the lead advisor to the Secretary on policies affecting financial institutions, and he oversaw a number of programs focused on supporting small business lending and community development.
The roundtable will be presented live at 1 pm ET on May 19. Click here for more information and to register for the session.
About Ocrolus
Ocrolus is a fintech infrastructure company that transforms documents into actionable data with over 99% accuracy. Powered by Artificial Intelligence and a unique, human-in-the-loop data validation process, Ocrolus plugs directly into customer workflows via API, eliminating the need for manual data work. The solution includes built-in fraud detection and analytics, enabling customers to make smarter and faster business decisions with unprecedented scalability and precision.
Use-cases include loan underwriting, account openings, and other document-intensive processes. Ocrolus has raised over $30 million in venture capital, backed by Oak HC/FT, FinTech Collective, Bullpen Capital, and QED Investors, among others. Visit ocrolus.com to learn more.
Media Contact:
Tim Dubes​​
tdubes@ocrolus.com
+1.909.896.3181
Source: Ocrolus