NSF Hearables Challenge Winner's Crowdfunding Campaign Funded on Day One
Press Release
-
updated: Sep 7, 2017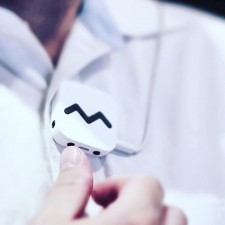 BOULDER, Colo., September 7, 2017 (Newswire.com) - Mark Kaal, CEO of Samplified Audio today announced that the company's Indiegogo crowdfunding campaign for the first product with Clementine Wear Inside, named the SnowOwl, was funded 200% on the day the campaign went live. Clementine Wear recently won the 2017 National Science Foundation's Hearables Challenge.
The SnowOwl is for anybody interested in or in need of listening to personalized audio. Imagine music entering your ears that perfectly matches your hearing profile, which is something as unique as your fingerprint. The SnowOwl can also serve as a listening device. Sound amplified where it needs to be amplified. Noise suppressed from any direction you don't want it from. The SnowOwl is supported by the Clementine Wear app, available for iOS and Android phones.
Samplified Audio further announces that it has started to explore a partnership to make QCY Bluetooth earphones with Clementine Wear Inside. QCY is the main brand of Dongguan Hele Electronics. QCY has been the best selling brand of Bluetooth headsets in China for four consecutive years. As a first step Samplified Audio will offer the brand new QY33 Bluetooth earphones included in a perk on their Indiegogo crowdfunding campaign. The QY33 Bluetooth earphones will be officially introduced during the upcoming Hong Kong Electronics Fair in October 2017.
The Clementine Wear Audio Platform is open to manufacturers of audio or hearing products and offers high end, personalized audio that can be used in Hearables and Audio Wearables sold over the counter or serviced via health care professionals.
Clementine Wear will be introduced at UbiComp 2017. Sept. 12-14 in Maui, Hawaii.
Media Contact
Mr. Mark Kaal
Phone: (+31) 6 26 03 29 72
Email: mkaal@samplified-audio.com 
ABOUT SAMPLIFIED AUDIO
The Developer of Clementine Wear is Samplified Audio, a mini-national company that brought together a wealth of experience in audiology, (wireless) audio engineering, (embedded) software development, hearing product design, manufacturing and distribution. Samplified was originally founded in Toronto by hearing industry veterans Mario Augustyniak and Mark Kaal, and expanded to Belgium and the Netherlands. More recently an office was opened in Boulder, Colorado and Samplified is preparing the opening of an office in Hong Kong.
ABOUT DONGGUAN HELE ELECTRONICS
Dongguan Hele Electronics Co. was founded in 2003. In 2011 they launched the brand QCY, which was an instant hit in the Chinese market. The company has 1200 employees and covers an area of 15,000m2 in Dongguan, China. QCY has been the most sold Bluetooth headset brand in China for 4 consecutive years. The company has a strong presence on local online sales platforms such as Tmall and JD, continues to grow strongly in overseas markets and manufactures headsets for some of the top smartphone brands in China.
Samplified CEO, Mark Kaal: "We are beyond excited to have the opportunity to work with the market leader of Bluetooth headsets in China, Dongguan Hele Electronics. With their 13 years of experience and excellent R&D capability in developing high-quality audio products, Dongguan Hele Electronics is well positioned for significant growth in the Hearable and Wearable market and potentially the new OTC Hearing Aid market in the USA and internationally."
Dongguan Hele Electronics International Sales Manager, Jason Wang: "The Clementine Wear Audio platform allows us to explore new markets and work with the Samplified Audio team to create a completely new series of QCY products with Clementine Wear. We are very pleased to cooperate with Samplified and see many opportunities." 
Source: Samplified Audio
Share:
---
Categories: Healthcare, High Technology, Consumer Electronics, Healthcare Technology, Artificial Intelligence and Expert Systems
Tags: audio, award, crowdfunding, earphones, headset, hearables, hearing, indiegogo, noise, wearable
---