NREP Launched New Emergency Planning Professional Certification
Press Release
•
Oct 24, 2022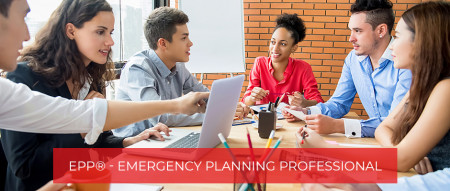 CHICAGO, October 24, 2022 (Newswire.com) - For more than 35 years, the National Registry of Environmental Professionals (NREP) has been certifying qualified professionals around the world. The not-for-profit was founded in 1987 with one goal in mind: to provide professional certification and certification programs to those who have the required education, training, and experience to be qualified as various environmental and safety professionals.
The Illinois-based business recently developed an Emergency Planning Professional (EPP) certification program, which will serve as a guide for personnel responsible for developing an emergency planning system for their organization or community. The certification aims to help in preparing an effective emergency operations plan, forming a team, and framing the planning process and format.
"This certification includes the emergency planning process along with the rationale behind planning," Chris Young said. "This will build capacity for effective participation in all-hazards emergency operations to save lives and protect property threatened by disaster."
In addition to the phases of emergency management, steps in the emergency planning process, threat analysis, and the development and maintenance of the plan, the EPP certification also comprises of the Incident command system (ICS), under the National Incident Management System (NIMS).
Those interested must either have a BS or BA degree or at least two years of practical experience. Three years of acceptable work experience may be substituted for each year of an academic degree program. At least two years of work experience in emergency planning and preparation is also a requirement for this certification.
The three-day online course is available in October, November, and December on the following dates: Oct. 26, 27, and 28; Nov. 2, 3, and 4; Nov. 9, 10, and 11; Nov. 30, Dec. 1 and Dec. 2; Dec. 7, 8 and 9; and Dec. 21, 22 and 23. Classes run from noon to 6 p.m. on the first day of each three-day session and 9 to 5 p.m. on the remaining two. Workshop attendees can expect to take a 20-question quiz on the first day, with a 75 percent or better to remain eligible to move forward with the certification. The final exam will be a Capstone project in which an Emergency Operations Plan will be developed, presented, and graded. The EPP workshop fee is $895. A study guide is available for $125.
Recognized by the United States Department of Energy (DOE) and the United States Environmental Protection Agency (EPA), the National Registry of Environmental Professionals has established a network of more than 15,000 members worldwide and offers certification in 23 different industries, including air quality, waste management, natural resources, and mold awareness.
"Our goal is to help professionals advance their careers and gain the recognition that they need to maintain their professional status and to continue practicing within their highly specialized field that maintains a strong relationship to the environment," Chris Young said.
For more information about any of the NREP's certifications or to complete a registration, visit nrep.org.
Source: National Registry of Environmental Professionals