Now UHA Members Can See a Doctor Online With a Telemedicine Visit
Press Release
•
updated: Jun 12, 2017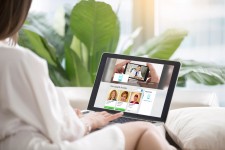 Honolulu, Hawaii , June 12, 2017 (Newswire.com) - DOCNow Virtual Healthcare Centers has joined UHA Health Insurance's provider network, giving UHA members the opportunity to now see a doctor from the comfort of their home or place of work. DOCNow is Hawai'i's leader in convenient, affordable, and quality telemedicine and offers Hawai'i residents the ability to see a Hawai'i-licensed, Hawai'i-located physician 365 days a year from 8 a.m. to 9 p.m. via smartphone, tablet or computer.
"We're really excited to offer our over 56,000 members a more convenient way to access medical care," said Howard Lee, president and CEO of UHA. "With the growing population and declining number of primary care doctors statewide, we are pleased to welcome DOCNow as our initial provider of telemedicine services. This is a great benefit for members — especially those on the neighbor islands — with medical problems that could easily be diagnosed and handled with a telemedicine appointment."
From scrapes, sunburns, respiratory infections, urinary infections, and the common cold to convenient prescription refills and replacements, DOCNow is able to treat a wide range of minor and common illnesses in patients of all ages.
"Our new partnership with UHA represents a breakthrough in giving the community unprecedented access to the highest quality medical care," said Dr. Jim Barahal, co-founder of DOCNow Virtual Healthcare Centers. "UHA has always been one of the biggest supporters of Hawai'i providers and their willingness to partner with DOCNow confirms their mission to provide the best care and increased access for their members."
UHA offers Hawai'i employers, from small family businesses to large groups spanning multiple locations, access to a full range of health plans. "Telemedicine visits will be covered the exact same way that a traditional office visit would be," said Lee.
To sign up, UHA members visit DocNowHawaii.com and create a free account using the service key DOCNOW. Once the member completes the simple signup process, care is just a click away.
About DOCNow Virtual Healthcare Centers
DOCNow was founded in early 2016 by Dr. Jim Barahal and Dr. Norman Estin to give Hawai'i residents convenient access to Hawai'i licensed and Hawai'i located providers anywhere. An American Telemedicine Association startup member, DOCNow is Hawai'i's leader in telemedicine. For more information and a complete list of all DOCNow virtual healthcare center locations, visit DocNowHawaii.com
About UHA Health Insurance
UHA was founded as University Health Alliance in 1996 by a group of physician faculty at University of Hawai'i John A. Burns School of Medicine. UHA provides medical, drug and vision plans to more than 4,700 Hawai'i employer groups and over 56,000 members. As the only health plan in Hawai'i founded by physicians, it was the first to offer preventive and wellness care focused health plans in the state, and now offers the largest physician and provider network in Hawai'i. By meeting strict quality standards to ensure clinically sound decision-making that respects the rights of patients and medical providers, UHA received accreditation in Health Utilization Management through URAC, the independent non-profit that promotes healthcare quality. For information, visit https://uhahealth.com or follow @uhahealth on Twitter.
Source: Wind On Water Communications, LLC
Related Media
Additional Links