NorthShore's Revolutionary Adult Diaper is Designed to Reduce Stigma Surrounding Heavy Incontinence
Press Release
•
updated: Apr 23, 2019
Customers can break free from hospital-like, tab-style briefs with the first-of-its-kind, highly absorbent brief in blue, green and purple.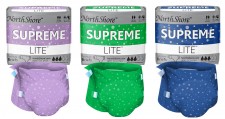 BUFFALO GROVE, Ill., April 23, 2019 (Newswire.com) - ​​​​​​​​​​​​​​Over 80 million adults in the U.S. manage some level of urinary or bowel incontinence, and many millions more will be faced with leaks and loss of control later in life. The good news is many of these symptoms are treatable or can be managed using incontinence pads bought in stores.
But what if that isn't enough? For people who have heavy incontinence and need stronger, more absorbent products than those found in stores, their options have been limited to clinical hospital-like briefs. Until now.
Earlier this year, NorthShore Care Supply, a Buffalo Grove Illinois-based company founded to empower those with heavy bladder or bowel leakage, unveiled its popular SupremeLite™ absorbent brief, now in vibrant shades of blue, green and purple.
"The launch of this product is a watershed moment for tens of millions of people with heavy bladder and/or bowel incontinence," NorthShore founder Adam Greenberg said. "There's no reason that only people with light incontinence should have products that make them feel good."
Customers told us that wearing white clinical-looking briefs often made them feel like they're in a hospital or nursing home," Greenberg said. "We want people to feel good in a product that is uplifting, not depressing."
That's important because those with heavy incontinence often struggle with depression and anxiety. They may choose to isolate themselves because they're worried about leakage or being found out.
"If we can provide a product that seems more like regular underwear, we can help normalize the situation and chip away at the stigma," he said.
Cheryl B. Gartley, founder of The Simon Foundation for Continence, which works to increase awareness around incontinence and lessen the stigma, states: "When people have less fear of their product leaking and they feel better about their product, both of these things could lessen the self-stigma they might be experiencing," she said.
Greenberg knows the stigma firsthand. His father, who suffered from cancer, and his grandmother, who had a stroke, both struggled with incontinence. And he remembers his father refusing to go to the store to buy what he needed.
"It was hard to find products that managed their incontinence and allowed them to maintain their privacy and dignity," said Greenberg, who used that premise to launch his business.
Incontinence issues are one of the top reasons older adults enter nursing homes. But with NorthShore's premium incontinence products, which provide powerful protection (and now style!), older adults can stay in their own homes longer and younger adults can live without anxiety and embarrassment of leaks.
"Helping you and those you love stay active and sleep through the night is not just our job," Greenberg said. "It's personal."
That's why those who call NorthShore at 800-563-0161 speak to kind and caring people who want to listen, help and advise without judgment. The company also offers free samples to ensure customers have the right product and fit.
About NorthShore Care Supply:
Greenberg launched NorthShore Care Supply in 2002, and NorthShore™ has become a leading brand for highly absorbent adult underwear in the U.S. For more information, or to request a sample, please visit NorthShore.com or call 800-563-0161.
Media Contact: media@northshorecare.com | 847-777-8260
Source: NorthShore Care Supply
Related Media