NorthShore Care Supply Makes Newsweek's Best Online Shops 4 Years in a Row
Press Release
•
Jan 24, 2023
The Adult Diaper Company Ranks Number One Online Shop in Medical Supply Category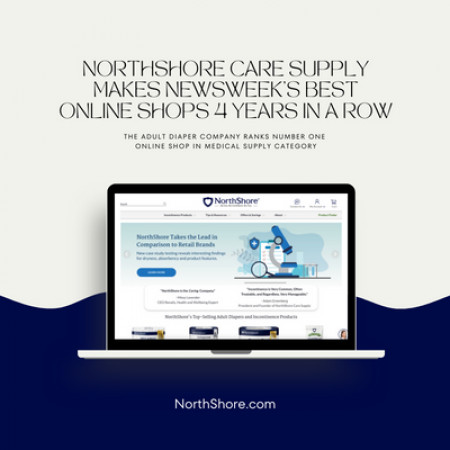 GREEN OAKS, Ill., January 24, 2023 (Newswire.com) - NorthShore Care Supply, the leading brand of adult diapers and incontinence supplies, was recognized by Newsweek as one of the Best Online Shops of 2023.
Newsweek, the popular news magazine, teamed up with the respected global data research firm Statista to present the best online shops consumers should consider in 2023.
Rankings are based on criteria online shoppers value: website usability, security, and how likely they are to purchase at a particular shop. Newsweek rankings recognize 1,000 shops in the United States in over 30 categories.
NorthShore Care Supply ranked number one in the Medical Supplies category, surpassing leading brands such as CVS, Walgreens, RiteAid, and AllegroMedical.
Since 2002, NorthShore's mission has been to improve the lives of individuals managing incontinence with life-changing products. The company's products are designed to help individuals managing heavier urinary and bowel incontinence.
Its brand of adult diapers and supplies are available in more sizes, styles, and absorbency levels. NorthShore focuses on helping individuals find the right product by focusing on their lifestyle, sizing, and incontinence needs.
The e-commerce brand has undergone site updates and added interactive tools to help consumers find a product that meets their needs. The Product Finder Tool and Sample Program provide customized product recommendations to consumers within seconds. NorthShore's website also offers Auto-Ship ordering options to help consumers save on orders and stay stocked with their needed products.
NorthShore has an A+ rating with the Better Business Bureau and over 5,000 five-star verified customer reviews. NorthShore proudly offers adults, families, and caregivers premium adult diapers and incontinence products. NorthShore's goal is to provide a seamless online ordering experience so consumers can get their needed products with ease.
"It's a great honor to be recognized as the number one online shop in the medical supplies category this year," says Adam Greenberg, president and founder of NorthShore Care Supply. "Our website has evolved from a diverse catalog to a patient-centered, educational shopping experience featuring our own NorthShore® brand. It's now easier than ever for people to shop for premium absorbent products that stay confidently dry for even the heaviest control problems."
To learn more about NorthShore's products and services, visit NorthShore.com.

About NorthShore Care Supply
NorthShore was founded in 2002 to empower people to live with the dignity and freedom they deserve and has helped over 2.5 million families keep their loved ones protected from leaks.
The company is committed to helping 80 million Americans manage bladder or bowel incontinence while living their lives to the fullest.
Our featured NorthShore® brand is the leading premium adult diaper brand in the U.S. and is available at NorthShore.com or by calling (800) 563-0161.
Follow us on LinkedIn, Facebook, Twitter, Instagram, and TikTok @NorthShoreCare.
Source: NorthShore Care Supply