Northeast Regional Council of Carpenters Local 276 Donates Efforts to Hamburg Playground
Press Release
-
updated: Aug 11, 2017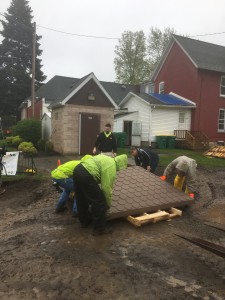 Hamburg, New York, August 11, 2017 (Newswire.com) - Members of the Northeast Regional Council of Carpenters' Local 276 (www.northeastcarpenters.org) recently volunteered a full day's time and expertise to the construction of a new playground in Hamburg, New York.
Joined by Council representative Tom Kelly and nine carpenter apprentices went to work on the installation project for the town, which had purchased the needed materials. State Assemblyman Sean Ryan helped to coordinate the council's volunteer participation in the project.
The council's donated time resulted in the savings of approximately $6,000 to the town of Hamburg.
The carpenter apprentices selected for the project were locally based and involved with the council's nearby Rochester Training Center.
Though the group went to work on a recent chilly Friday that saw heavy rains persist throughout the day, Kelly says morale remained high.
"The apprentices didn't bat an eye," said Kelly. "Everyone tooled up, and we got out there, set up a tent over a couple of saws so we could cut safely, and the kids went to work. They did a fantastic job."
The crew worked on assembling various parts of the playground and completing a framework for benches.
Kelly says the crew took a lot of pride in their work, volunteer or not.
"There's always something to be said when you can drive by," Kelly said. "I don't care if it's a building or if it's a playground or a deck that you put on someone's house. If you built a disabled ramp for someone, who needed it. When you drive by and you can say my hands built that, much less I donated that to a cause, there's definitely something to be said for that."
Kelly added that the project was in line with the spirit of "family community" that runs deep within the council.
"It's important to give back to the community," said Kelly. "That's what the brotherhood of carpenters is all about."
###
Source: The Carpenter Contractor Trust
Share:
---
Categories: Business News, Construction, Sports, Fitness, and Recreation
Tags: Hamburg New York, Local 276, Northeast Regional Council of Carpenters, union carpenters
---