No End in Sight for 'Culdesac'
Press Release
•
updated: Nov 8, 2018
Samera Entertainment takes a first look behind the scenes of Dylan Ashton's "Culdesac," coming soon to Amazon Prime Video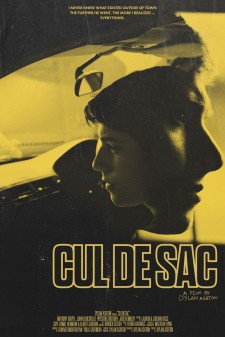 LOS ANGELES, November 8, 2018 (Newswire.com) - ​Only three months ago, writer/director Dylan Ashton graduated from U.C. Berkeley. Now, before the release of his latest short film, CULDESAC, set to premiere on Amazon Prime Video later this year, the filmmaker sat down with Samera Entertainment to discuss how his latest project came to be:
A portrait of broken youth, Culdesac follows Kit and Sydney, two brothers separated after the destruction of their parents' divorce, as they are forced to come to terms with the dead end town they can no longer call "home."
"The initial concept first came to me about a year after I moved to Los Angeles just out of high school, which was a really scary time for me," Ashton recalls. "I remember I wasn't even old enough to sign a lease when I first got here since I was 17. It really made me think how much had changed so fast, and I wanted to find a way to capture that duality between how I felt during my childhood and how I felt when I was seventeen and just wanted to break out."
Culdesac reflects Ashton's struggle to withstand the cynicism that follows us as we grow up. "At its core, Culdesac is about the loss of innocence, that tragic moment in our childhoods when we simply stop believing," he recently said in an interview. "By having us discover the film's harrowing secret along with its characters, we, too, are forced to confront the moments that altered our childhoods."
As Culdesac entered production, Ashton returned to his small Northern California hometown and enlisted help from his community.
"Making it was truly a hometown effort," he says about the experience. "It really was its own bittersweet homecoming, though. I think we were all overwhelmed by the amount of support they gave us. It was a special moment that felt like the culmination of these many experiences we all had growing up."
It wasn't until Ashton discovered the film's two leads, played by Daytime Emmy-nominated Anthony Turpel (The Bold and the Beautiful) and John Berchtold (Manhunt: Unabomber), that his vision became fully realized.
"I really owe an enormous deal of what Culdesac is to them. There finally came to this point where I finally had to let go a bit, because I knew there was nobody better who could embody these characters. As a director, I think that's all you could ever really ask for."
To create the film's harrowing, yet dream-like musical themes, Ashton enlisted longtime friends, Romil Hemnani, of boy-band BROCKHAMPTON, as well as Albert Gordon (Natalie Green).
"The three of us spent countless hours in their house working on that score. It was an incredible energy. I very clearly remember the night we finally landed on what became the Culdesac theme melody, too. We were all so excited."
Ashton certainly shows no sign of slowing down, as the filmmaker recently partnered with Bounty Films (LOVE, Two-Bit Waltz), who is set to release Culdesac on Amazon Prime later this year.
"I was captivated by Dylan's ability to tap into his generation in a way I hadn't seen before. He manages to show us the harshness of adolescence while also expressing a profound sensitivity towards that tumultuous time," said Leslie Morris, marketing manager at Bounty Films. "The film will certainly engage with a new generation of young viewers."
With Ashton, one senses it is the spirit of storytelling and the fierce passion in bringing his vision to life which makes him something special.
"Film-making may not be the romanticized process that I and many others might envision, but as long as you cherish your vision and fight to preserve the honesty of the story you are trying to tell, you've managed to do something great."
Culdesac will be made available on Amazon Prime later this year.
If you haven't seen Culdesac, now is the time to track it down at this year's San Francisco IndieFest. For tickets to the November 10 screening click on the link - https://drafthouse.com/sf/show/sf-indieshorts-the-kids-are-alright
Source: Samera Entertainment
Related Media