Nikki Rich Fall Fashion Collection Embodies High Energy, Optimism and a Fierce Rock 'n' Roll Vibe!
Press Release
•
updated: Aug 5, 2014
High energy, optimism and a fierce rock 'n' roll vibe resonate throughout the fashion world this Fall. Touched by an age of modernism and cut with the cool of 70s rock, the Nikki Rich Fall collection is a vibrant odyssey into uncharted territories.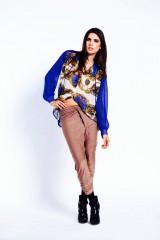 Los Angeles, August 4, 2014 (Newswire.com) - Young, fresh and frenetic, classic Nikki Rich designs are refracted with intricate detail bringing rich, 3-D components to the surface. Highly charged, the primitive, hand-crafted inspiration of the mountains and desert is kicked into high gear with the infusion of energy from the active beach lifestyle.
Though Nikki Rich predominantly draws its inspiration from California and particularly from Los Angeles, with the close proximity to the beach, the mountains and the desert, it finds inspiration all around us. Feminine and classy, yet infinitely wearable, understanding that clothing needs to put in the hours during the day and still be ready for a full night.
"The Nikki Rich girl is a woman who knows her mind and reflects her unique sense of style through the fashion choices she makes."

Nikki Lund, CEO - Nikki Rich
This season Nikki Rich has paired stunning urban outerwear with dresses and skirts that would be right at home in the most fashionable events. Asymmetrical, geometric prints, bold metallics, high-end materials and luxury leathers pair with comfy oversize sweaters, geometric lace and soft knits to create the perfect blend of tough femininity.
From distressed leathers and intricate geometric laces to faux furs and asymmetrical hemlines, Nikki Rich excels at putting a new spin on a classic idea. Never content to provide what's expected, Nikki Rich utilizes high end goods, mixed media, fringe, artful draping, luxury fabrics, bold prints and subtle shapes to push contemporary women's ready to wear into the future.
Nikki Rich designs for California girls all over the world who love a hint of the glamorous, as well as relaxed, bohemian looks. The Fall 2014 collection draws inspiration from many different sources, and accurately reflects various trends already visible in the high-end marketplace.
Whether she's looking for an outstanding modern basic drawing on inspiration from classic inspired styles, oversized jackets and athletic inspired wear intermingles with plush knits and sweaters, or softer florals and lace to create a look all her own, there's something for everyone. With a touch of nouveau grunge, Nikki Rich Fall 2014 isn't afraid to lend an air of rock 'n' roll toughness to ultra feminine looks, pairing the practical with the unconventional.
About Nikki Rich:
Nikki Rich is a lifestyle brand that invokes a modern sensibility by fusing music, art and fashion. Co-designed by Nikki Lund & Richie Sambora, the pair are successfully bridging the gap between designer and contemporary fashion. Pairing luxe textiles with impeccable craftsmanship, Nikki Rich offers a unique designer aesthetic at an unbeatable price point.
Known for its innovative retailing, Nikki Rich launches this new collection offering a unique brand story that ties into an overarching seasonal theme. Each trend - unique, vivacious and show stopping - dances to the beat of chic.
Related Media
Additional Links