Incredible Sales For Nikki Rich Clothing on ShopChannel Japan!
Press Release
•
updated: Aug 14, 2014
Richie Sambora and his business partner, Nikki Lund, appeared on ShopChannel Japan this week endorsing their multi-million dollar selling fashion line and their joint venture - Nikki Rich Clothing.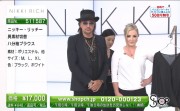 Los Angeles, CA, August 14, 2014 (Newswire.com) - The dynamic designer duo behind the ready-to-wear fashion house has taken hold of Japan after their successful debut one year ago.
Nikki Rich Clothing made its spectacular return to the Japanese marketplace. Poised to sell over 100 billion yen annual sales, the number 1 TV shopping company brand in Japan, reaching 27.46 million households, boasts 24 hour Live Broadcasting, 365 days a year, through CATV, Satellite TV, terrestrial TV, and IPTV. In addition, ShopChannel Japan operates Internet shopping, mobile shopping, and catalog shopping.
"Knowing as much as I do about fashion and culture in Japan, it is a tremendous honor and great opportunity to have been chosen to debut our clothing on ShopChannel. Richie and I so excited to be back in this beautiful country."

Nikki Lund, Fashion Designer
"I have traveled the globe many times over and have great respect for all that ShopChannel has accomplished. Well respected for what they do, they have an unyielding, global position as pioneers in household shopping," said the 54-year old rock star, Richie Sambora.
After a whirlwind tour of Tokyo that saw Sambora play solo to sell-out stadiums in Roppongi, Tokyo, the pair headed to the studios at ShopChannel Japan for their second appearance on the Far East's biggest home shopping network.
The at-home shopping behemoth handpicked items from their Fall 2014 Collection to debut on the channel and within 45 minutes, they sold every last piece. With two re-orders already placed, new items are scheduled to arrive in their television studio in Japan in November and December 2014.
Nikki said, "Japan is a beautiful country and I was inspired by their technology and forward thinking."
"There is a definite force of enthusiasm and mutual respect for life within their culture that I was personally enamored by," she said.
After receiving critical acclaim in the states from publications including WWD and Apparel News, the dynamic designing duo were asked to bring key pieces to the very discerning Japanese marketplace.
Richie said, "Nikki and I are excited to continue building our relationship with ShopChannel, a company that we respect and that reciprocally respects our brand."
Nikki showed the same sentiments when she said, "Knowing as much as I do about fashion and culture in Japan, it is a tremendous honor and great opportunity to have been chosen to debut our clothing on ShopChannel.
"Richie and I look forward to this amazing adventure," said Nikki.
Shop Japan curates its offerings from all over the world, but they are especially discerning about fashion. It is known that only items that buyers are convinced of in terms of trends, fabrics and other factors are procured.
Nikki added, "Richie and I particularly loved the way Japan embraced our brand... Expect even bigger things from the brand next in 2015."
Shop Channel's buyers are infamously uncompromising and selection of items can often take more than a year of discussion before purchase orders are made. Considering the Nikki Rich Fall 2014 Collection only had its US debut in March, we think we have some fans in Japan.
About Nikki Rich:
Nikki Rich is a lifestyle brand that invokes a modern sensibility by fusing music, art and fashion. Co-designed by Nikki Lund & Richie Sambora, the pair is successfully bridging the gap between designer and contemporary fashion. Pairing luxe textiles with impeccable craftsmanship, Nikki Rich offers a unique designer aesthetic at an unbeatable price point.
Known for its innovative retailing, Nikki Rich launches this new collection offering a unique brand story that ties into an overarching seasonal theme. Each trend - unique, vivacious and show stopping - dances to the beat of chic.
Related Media
Tags
Additional Links