Nightlock Now Sells Campus Safety Shades for a Lockdown
Press Release
•
updated: Mar 20, 2019
Michigan-based security company adds new visual-protection shades to its line of products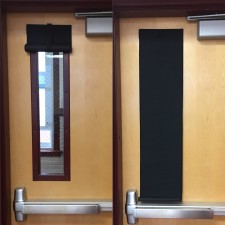 MOUNT MORRIS, Mich., March 20, 2019 (Newswire.com) - Nightlock offers its newest line in commercial and residential security products with the unveiling of its Campus Safety Shade. These privacy shades are the perfect solution for any classroom, office, or anywhere long-narrow windows exist to deter and visually-obstruct potential criminals upon deployment. Made in the USA from 100% polyester and flame-coated to meet mandatory FR (flame-resistant) requirements, Nightlock's Campus Safety Shades cover door windows and/or sidelights in emergency lockdown situations.
Campus Safety Shades from Nightlock is a cost-effective solution proven to improve campus safety for any organization. Installation of these new Campus Safety Shade is quick and easy with the attached industrial-strength adhesive and can be used on doors and windows of all sizes. Additionally, the blackout fabric makes it hard for sunlight or prying eyes to get through. When properly implemented, these security shades block the view into rooms, acting as a deterrent to active threats and increasing the chances of survival for occupants in a crisis situation.
Nightlock's innovative products have been developed as a high-performing response to the rise in school shootings, home invasion, and burglaries across the country. Nightlock's addition of Campus Safety Shades to its line of security products compliments the company's best-selling flagship product, the Nightlock® Lockdown Door Barricade devices.
Nightlock is a family-owned commercial- and residential-security company based in Mount Morris, Michigan. Founded in 2011, Nightlock manufactures, markets, and installs its patented Nightlock® home, school, and business-security products to enhance the lives of its customers through increased security and safety. Since the company's founding, Nightlock's products have been used in 1000s of schools, churches, government and retail buildings, as well as homes across the United States. Featured in The Washington Post, Government Technology, and many national news outlets, Nightlock is the first-choice in safety.
If you would like more information about this topic, please call Jason Matznick at (855) 644 – 4856 ext. 702, or email Jason at jason@nightlock.com
Source: NIGHTLOCK