Nigerian Music Artist and Former Kanye West G.O.O.D. Artist D'Banj Releases His Highly Anticipated Fourth Album, 'King Don Come'
Press Release
-
updated: Aug 25, 2017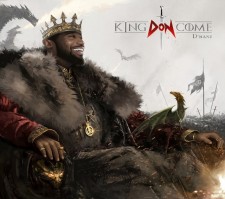 LOS ANGELES, August 25, 2017 (Newswire.com) - Nigerian born singer-songwriter, entertainer and entrepreneur D'Banj (dee-bonge) has released his highly anticipated fourth solo studio album, King Don Come.
This album is high energy and showcases D'Banj's versatility and dexterity with different African and international sounds. D'Banj also highlights his career in various songs, as this album comes nine years after his critically and commercially successful classic album, The Entertainer. The video for the hit single from the LP, "Be With You," was produced by Apple beats by dr. dre and was recently released worldwide. D'Banj releases this album just in time for The Recording Academy to qualify his music for the 2018 Grammys.
"We've partnered with D'Banj over the past three years and he is truly a global artist," said Jason White, Global Head of Marketing at beats by dr. dre. "D'Banj fans are all over the world from London to Shanghai, and I think all of them will love his new album."
King Don Come consists of 12 amazing tracks and can be downloaded at iTunes and Apple Music. A few of the contributing producers on the album include: Ploops, Tefa, Maleek Berry, Shizzi, Killer tunes, Don jazzy, Dr Amir and CREAM Platform Discovery, now DKM protégé Cheeky Chizzy. One of the hottest collaboration on the album is 'El-chapo,' which features American trap King Gucci Mane, and African top vocalist and song writer Wande Coal.
"D'Banj opened the door for much of the new generation of music that's being produced in Africa," said Ebro, renowned Radio Personality for Beats One Radio and Hot 97 radio. "He really went in and put it down on this album a hundred percent."
D'Banj successfully spearheaded the Modern Music Revolution in the Nigerian music industry with his energetic and yet charming persona. Releasing his debut studio album, No Long Thing in 2005, D'Banj took African music to another level with one of the biggest African-American collaborations with Snoop Dog entitled "Mr. Endowed." He signed to Kanye West's G.O.O.D. Music in 2011, and in 2012, after wowing the crowd at the Irvin plaza, the New York Times said "… He is a Pop star for sure." D'Banj's 2012 summer hit "Oliver Twist", an up-tempo dance fusion of afrobeat and electronic dance music, topped the African charts in 2011, and was a top 10 hits in the UK singles chart in 2012 reaching No. 2 on the UK R&B chart, No. 1 on Romanian chart and top 10 across Europe.
D'Banj is one of the first Nigerian musicians to be endorsed by a brand in the country, and remains the only entertainer with the highest number of corporate endorsements; which have yielded millions of dollars to his brand. With D'banj' s first album came his first endorsement from an energy drink called Power Fist. In May 2013, D'Banj was named the Bank of Industry (BOI) ambassador. In November 2013, D'banj re-signed a multi-million Naira deal with Globacom, the company he parted ways with in 2010. In June 2014, D'Banj secured a deal with Heritage Bank, and in Oct. 2014, D'Banj was named the first official African ambassador for Apple beats by dr. dre. In Feb. 2015, D'Banj was named the official African ambassador for Cîroc Nigeria.
In Aug. 2016, D'Banj's company D'Kings Men Media launched The C.R.E.A.M Platform (now the CREAM PLATFORM LTD). The C.R.E.A.M. is a creative talent platform set up to help discover young creative minds across Nigeria, by dialing a USSD code exclusively on an MTN NIGERIA mobile phone. It is reported that the platform, as of May, has over 3 million subscribers, 400-thousand daily paying users, and has discovered thousands of talents from the music category alone. The platform was recently valued at 130-million dollars by KPMG, as D'Banj signed a global distribution deal with Priority/ Capitol Records in the Los Angeles for the Cream Platform.
# # #
Please note: Other sites to purchase the King Don Come Album: https://priority.lnk.to/KingDonCome
Follow D'Banj on Twitter, Facebook and Instagram. To watch D'Banj music videos go to YouTube at www.youtube.com/user/DBanjVevo. For bookings contact Tonya Merritt at 310-989-9991, or via email at tmerritt@dkingsmen.com.
MEDIA CONTACT INFO:
Katina Fields
UTOPA~TT Consulting Agency
443-816- 3654
katina@utopatt.com
Share:
---
Categories: Music, African American, NightLife, Arts and Entertainment
Tags: DBanj, Grammys, Gucci Mane, Nigerian Music, OkayAfrica, Pop Music
---