NFL Draft Bible Scouting Report: Jeremy Sprinkle, TE, Arkansas per NFL Draft Bible
Press Release
•
Oct 27, 2016
Pros, Cons and Overview of Jeremy Sprinkle's draft status for 2017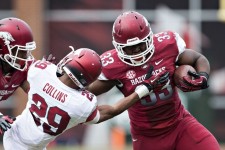 New York, NY, October 27, 2016 (Newswire.com) - NFL Draft Bible Scouting Report: Jeremy Sprinkle, TE, Arkansas
PROS: Great frame and uses it to his advantage while blocking in the run game where he is a force to be reckoned with. Does a great job at the point of attack and can be effective in either pass or run protection. Possesses really impressive athleticism and is a true playmaker with the ball in his hands. Has the tools to develop in to an elite receiving threat that will break the backs of defenses. Led all SEC tight ends with six touchdown receptions in 2015 thus he is no stranger to being relied on inside of the red zone.
"I was sitting there today with several NFL scouts and they're just chomping at the bit to get a chance to be around him."

Bret Bielema, Arkansas, Head Football Coach
CONS: To this point he has been severely under used at the University of Arkansas. He has not been asked to run many vertical routes and therefore lacks experience in the art of creating separation down the field. Although he is a formidable blocker at the line of scrimmage he has a tendency to whiff on blocks at the second level of the defense.
VIEW: This prospect has flown under the radar for the most part, but possesses talent that should be taken seriously. With such a large frame he still manages to be a playmaker when he gets the ball in space. If used properly he creates a matchup nightmare for defenses with his combination of athleticism and strength. He has already proven himself as a red zone threat and can only improve in that aspect of the game. His main challenge will be growing his route tree as he has the skill set to be a true vertical threat. As May approaches, his stock will slowly rise as he garners national attention.
************
NFL Draft Bible was started by Rick Serritella 12 years ago and has grown it into the largest independent NFL Draft Site in the USA. go to www.nfldraftbible.com to use code football2016 for football for life at 50% off.
Source: NFL Draft Bible
Related Media
Additional Links