'NEXT LEVEL YOU' by Oksana Esberard is Now Available
Press Release
-
updated: Dec 10, 2019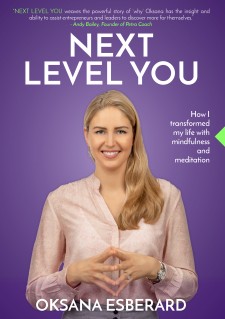 FORT LAUDERDALE, Fla., December 10, 2019 (Newswire.com) - SattvaMe is proud to announce the upcoming release of NEXT LEVEL YOU, a combination of personal stories, practices and research designed to educate, inspire and energize readers to jump-start or deepen their journey into mindfulness and meditation to relieve stress and bring balance into their lives.
Stress is not only ubiquitous in modern life but it is also a source of ill effects for many entrepreneurs and executives. Even at the top of their game, almost all of them spend little to no time taking regular breaks and use alcohol and caffeine to recharge their metaphorical batteries. Stress may have become a source of energy and inspiration for these individuals, but it is also debilitating. Not only for their work lives but also their personal lives.
What if success without stress is possible? This message is precisely what Oksana Esberard wants to convey. After her own transformation from stressed to balanced, she was inspired to reflect back on the tools she used to make that transformation and to share them with others.
Over the last decade, driven by Silicon Valley titans, mindfulness and meditation have begun to gain popularity within the business community. In fact, these practices have begun to take place alongside exercise and nutrition as one of the things that everyone "should" be doing. Unfortunately, finding the correct methods to put these principles into practice has not caught on as well as the idea has.
In this book, Oksana shares her vulnerability and stories from her upbringing in the Soviet Union, all the way through her journey to become a citizen of the world and an impactful entrepreneur. She has used practical tools to help train leaders to be agents of change. She credits a large portion of her success to meditation and mindfulness. Thus, she is putting NEXT LEVEL YOU out into the world to help others navigate the turbulent, information-overloaded world and transform their lives from being busy and stressed to being balanced and energized.
A small sampling of the praise she has received for her work:
"I believe that meditation and my ability to consistently practice is the necessary foundation for mindful living. I am eternally grateful to Oksana for helping me transform my life in the most meaningfully healthy way I can imagine."
DOUG SKOKE, Business Development Director, Benjamin Douglas Consulting
"Mindfulness practices have completely transformed my life. I now use the meditation and breathing techniques Oksana has taught me every day. Her practices have helped me stay focused, energized, and have brought so much joy into my life."
STEPHANIE CRUZ, Director of Talent Acquisition, New Horizons Computer Learning Centers of South Florida
Get your copy at http://bit.ly/NextLevelYouOksana​.
For more information, email contact@sattva.me.
Source: SattvaMe
Share:
---
Categories: Books
Tags: Meditation, Mindfulness, Oksana Esberard, SattvaMe
---