Next Gen Philanthropy Startup Bstow Rebrands as 'Cheerful', Names Richie Kendall CEO
Bstow, Inc., the tech innovator that introduced round ups for charity to market rebranded as Cheerful and launched a philanthropic fund.
Press Release
-
updated: Nov 12, 2018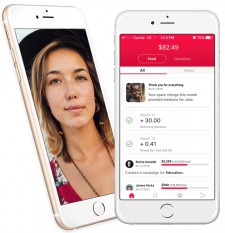 NEW YORK, November 12, 2018 (Newswire.com) - BSTOW, the fast-growing charity-tech startup has relaunched as Cheerful and named new media visionary, Richie Kendall, as CEO.
"Cheerful represents a pivotal shift in philanthropy that meets the demands of the next generation of changemakers. The web and mobile app tracks your philanthropic impact and provides a suite of all-in-one fundraising tools to nonprofits of every shape and size. Whether you're rounding up the change on your purchases, making direct gifts to crowdfunding campaigns or multiplying your impact through celebrity giving, it's all part of the new economy of world change," says Kendall.
"In a two-sided market, our platform is different from other fundraising CRMs in that it offers an innovative donor experience, as well as the necessary donor management tools nonprofits, rely on for day-to-day operations. This bridge is what gives the platform mass-market appeal," adds Jason Grad, Co-Founder and CFO.
Since January, the company has already gained the trust of over 50 top nonprofit brands, from Boys & Girls Clubs, Goodwills, YMCAs, and Meals on Wheels — to major food banks and celebrity foundations. The company is scheduled to launch crowdfunding before the end of the year, which will make it the first major web platform with a native app for charitable crowdfunding.
Cheerful attributes its rapid growth to the explosion of financial technology trends like Venmo, Acorns, and Zelle that are delivering safer, more cost-effective ways to move money including peer-to-peer payments and rounding up change for investments and savings. The round up feature is especially compelling because it allows individuals to donate the small change (rounded to the nearest dollar) on their purchases to causes they care about. For example, on a purchase of $12.34, Cheerful directs the extra $0.64 to the nonprofit of choice. These types of fundraising methods align with the behaviors and lifestyles of Millennials and Generation Z, a much sought-after demographic for the future of philanthropy.
"We're entering a new age of democratized giving and cause engagement. Younger generations demand mobile-forward experiences that are secure, transparent and easy-to-use, where individuals can join new power movements around the most pressing social issues of our time, from immigration to human rights." Kendall adds.
ABOUT CHEERFUL (FORMERLY BSTOW)
Based in New York and Denver, Colorado, Cheerful is a free app that lets you invest spare change in social good and manage all your charitable giving in one place. For nonprofits, Cheerful provides a modern framework for online fundraising that engages a younger demographic while streamlining the giving process for existing donors. Whether you are collecting one-time, recurring, or spare change donations from events, online, emails or SMS campaigns, Cheerful is making generosity a lifestyle.
ABOUT CHEERFUL 501(c)(3)
Based in Denver, Colorado, Cheerful, Inc. is a 501(c)(3) whose mission is to provide a technology platform that receives and grants funds to public charities for much needed charitable programs and services. Ultimately, Cheerful, Inc. aims to revolutionize philanthropy by empowering younger generations in charitable leadership, generosity, and civic action around high impact areas of social good.
Press contact:
jordan@notabilitypartners.com
Source: BSTOW
Share:
---
Categories: Charitable Contributions, Business Technology
Tags: 501c3, bstow, cheerful giving, philanthropic fund, richie kendall
---