Charity-Tech Innovator 'Cheerful' Launches Millennial-Focused 'Change to Spare' Campaign With American Cancer Society
In honor of National Cancer Survivors Day® Celebration of Life on June 2, 2019
Press Release
-
updated: May 29, 2019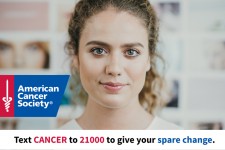 NEW YORK, May 29, 2019 (Newswire.com) - Cancer remains the second leading cause of death globally, responsible for an estimated 9.6 million deaths in 2018. It's difficult to find someone whose life has not been touched by cancer in some way, considering there are more than 15.5 million people living with and beyond the disease in the U.S. today. 1
On Sunday, June 2, 2019, communities around the world will unite to recognize these cancer survivors, raising awareness of the challenges of cancer survivorship as part of the 32nd annual National Cancer Survivors Day® Celebration of Life.
In honor of the occasion, Charity-tech company, Cheerful Giving and American Cancer Society and have launched 'Change to Spare', a first-of-its-kind campaign empowering Americans to candidly share their personal experiences on social media and donate their spare change toward a future without cancer.
"Spreading awareness and showing solidarity are bedrocks in this fight, but so is raising the money to continually fund breakthrough research and critical patient services. It's one of the many reasons we've built a platform to engage and scale the generosity of the next generation," says Richie Kendall - Co-Founder and CEO of Cheerful.
In true Millennial-fashion, campaign participants have the ability to securely link a payment method through the 'Change to Spare' website and start rounding up and donating the change on their everyday purchases to American Cancer Society.
"Many young people are not in a position to write a big check, but deeply care about these causes and want to support them. The 'Change to Spare' campaign gives anyone with a bank account the chance to pitch in, even if it's just a few cents each day. When you get enough people doing it, it really adds up." Kendall adds.
The 'round up' concept is part of a growing financial technology trend popularized by Acorns and similar apps in the investment and savings space. The program contains all the benefits of a recurring donation, but offers a lower barrier to entry for those with sensitive budgets. The psychology of "spare change" is especially fitting for Gen X and Millennial donors who are invested in social causes, but engage through more modern technology than previous generations. These new tools provide additional benefits that include automated reporting and high levels of security. For instance, participants receive monthly statements to track their contributions and have the ability to set a monthly cap. Cheerful's platform uses bank-grade encryption to handle all sensitive financial data and never stores it, which means payment data is never susceptible to breach, a growing concern of today's digital consumer.
With 'Change to Spare' it's easier than ever to fund groundbreaking research and patient services including free rides to treatment, a 24/7 helpline, and free lodging.
Follow the #ChangetoSpare campaign on social or visit bit.ly/change-to-spare and select any card through your online banking. Once signed up, the system will automatically round up and donate the spare change on your purchases to the nearest dollar to make a small, but meaningful difference for the cause.
Source: Cheerful
Share:
---
Categories: Philanthropy
Tags: american cancer society, cancer, charity, cheerful giving, fundraising, Millenials, philanthropy, survivors day
---