Next Decentrum Launches the Crypto Pharaohs NYC Quest Across the Big Apple During NFT.NYC Week
Press Release
•
Jun 21, 2022
A real-life AR experience by the Crypto Pharaohs World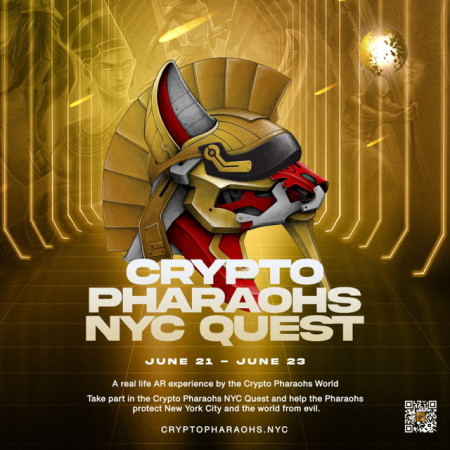 NEW YORK, June 21, 2022 (Newswire.com) - Next Decentrum Technologies Inc ("Next Decentrum") announced today the launch of the Crypto Pharaohs NYC Quest, an AR experience taking place on the streets of New York City to coincide with NFT.NYC week.
The quest will start at Times Square and players will help Crypto Pharaohs fight evil forces by collecting clues in AR marbles positioned at NYC landmarks.
"We are thrilled to invite the NFT community to experience New York City and enjoy great storytelling, have fun and claim amazing collectibles," said Hussein Hallak, Founder & CEO of Next Decentrum. "We've placed clues across the city starting at Times Square for people to find, collect and work through the challenges to claim an NFT."
The quest was developed on the Marbleverse application, a pioneering tech company that has teamed with the Next Decentrum team to release a live gamified experience similar to Pokemon Go.
"We're excited to work with Next Decenturm who have great passion for art and culture," said Tom, CEO of Marbleverse. "With the global popularity of NFTs, this project is a brilliant way to have fun and experience the Pharaohs Cats."
Crypto Pharaohs World is an iconic collection of digital collectibles, including Crypto Pharaohs, Pharaoh Cats, and Avatar Gods, inspired by ancient Egypt and born out of a fascination with its civilization.
Quest will be live at Pharaohs.NYC on Tuesday, June 21 at 10 a.m. EDT. Everyone in New York can take part, follow the story, collect clues and enter to win multiple prizes while having a ton of fun.
ABOUT NEXT DECENTRUM TECHNOLOGIES INC.
At Next Decentrum, we live to Democratize Access to Art and Culture. Our platform, Momentable, allows leading museums and artists to publish art and artifacts as digital collectibles reaching global audiences, and leverage new funding and revenue opportunities. Museums can use Momentable to bring physical assets to the Metaverse as extensions to the museum experience, enabling millions to learn about and interact with the world's rarest treasures made possible with an end-to-end offering, that's easy and safe for first-time creators and NFT collectors. By making art & culture shareable as NFTs, museums and artists have a platform to grow their reach, generate revenue and create inspiring experiences. For information, visit NextDecentrum.com.
ABOUT MARBLEVERSE
Marbleverse brings the Metaverse and NFTs to the real world. Our app allows everyone to augment the real world with information, memories, and stories. Based on AR technology, it merges the digital and analog worlds. Real-world Metaverses are the next evolution of the internet and Marbleverse allows content creators to drop NFTs in the real world, so people can chase them on a virtual treasure hunt. This allows NFT creators to stand out from the crowd and add real meaning to their NFTs. For information, visit https://marblever.se.
For media contact and information:
Source: Next Decentrum Technologhies