Nexii Recertified Under BMO Climate Smart Program
Press Release
•
Jul 6, 2023
Demonstrating the company's unwavering commitment to sustainability.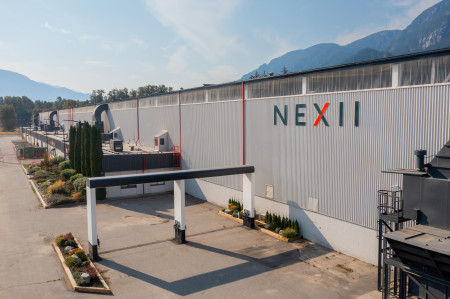 VANCOUVER, British Columbia, July 6, 2023 (Newswire.com) - For a second year in a row, green construction company Nexii Building Solutions (Nexii) successfully completed the Climate Smart Certification program from BMO Radicle Inc. This award-winning greenhouse gas (GHG) emissions-reductions program requires businesses to undergo a rigorous process to measure and reduce their climate pollution.
Environmental, Social, and Governance (ESG) strategies continue to be a core priority for Nexii, and the reduction of climate pollution is critical to that agenda. Outlined in the company's 2022 Profound Impacts Report is Nexii's blueprint to achieve net zero carbon across operations and the value chain. Nexii aligned these with Science Based Target initiative (SBTi) target-setting requirements and is implementing energy efficiency measures and decarbonizing existing facilities.
"We are proud to once again be a Climate Smart Certified business," said Zosia Brown, Vice President of Sustainability. "Nexii is at the forefront of tackling the carbon footprint of buildings. Our attention to tracking and driving down climate pollution directly benefits our clients and building owners. We continue to advance our mission to build a vibrant future for people and the planet."
The Climate Smart program provides a unique combination of training, tools, and technical assistance to enable companies to measure and reduce their GHG emissions, make informed decisions to invest in efficiencies and communicate their sustainability initiatives in a compelling and data-driven way. This unique approach equips companies to analyze, measure, and reduce emissions which, for Nexii's prefabricated wall and roof panels, translates into lower embodied carbon.
"By completing the Climate Smart program, companies are pioneering a new path towards Net Zero, making environmental stewardship and financial prosperity two sides of the same coin," says Saj Shapiro, Head, BMO Radicle. "Climate Smart Certified businesses are among global industry leaders who have taken steps toward creating sustainable initiatives for their company's long-term success and showing they have a plan in place to make a positive impact for the environment for generations to come."
Becoming a Climate Smart Certified business means Nexii joins other industry leaders in building capacity to accelerate sustainability and reduce climate impacts.
About Nexii
Nexii Building Solutions Inc. (Nexii) designs and manufactures low-carbon buildings and products to address the climate impact of our built environment. With buildings and construction responsible for 36% of global energy consumption and 37% of greenhouse gas emissions annually, sustainable and scalable solutions are urgently needed for net-zero buildings. With Nexii's breakthrough material Nexiite, Nexii enables the rapid assembly of high-quality buildings and infrastructure with reduced end-to-end carbon emissions, near zero waste and less disruption to the community. Sustainability is core to Nexii's mission to build a vibrant future for people and the planet.
For more information, visit www.nexii.com, or connect with us on Instagram (@NexiiBuilds), Twitter (@NexiiBuilds) or on LinkedIn (Nexii Building Solutions).
Source: Nexii Building Solutions