Nexii Completes Building at Seneca Service Area on NY Thruway
Press Release
•
Jul 20, 2023
Built using Nexii's durable, sustainable concrete alternative, resulting in significantly reduced emissions, build times, cost and resources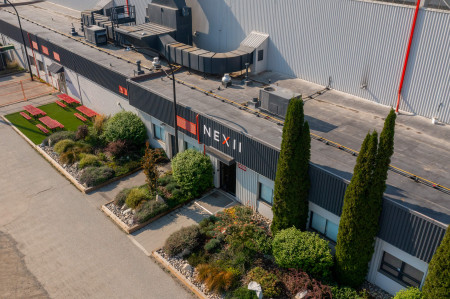 VICTOR, N.Y., July 20, 2023 (Newswire.com) - Green construction company Nexii Building Solutions (Nexii) today announces the completion of assembly for a 6,131 square-foot building at the renovated Seneca Service Area on the New York State Thruway. It is the first of 13 service plaza structures that Nexii will manufacture over the next two years; last year, Nexii completed 10 buildings in this ongoing project's first phase. Acting as a subcontractor for AECOM Tishman, Nexii designed and manufactured the high-performance building envelopes as efficient, sustainable alternatives to traditional commercial rest-stop buildings.
"We are thrilled to announce the completion of the Seneca Service Plaza. It is a testament to Nexii's dedication to delivering sustainable and innovative construction solutions," said Gregor Robertson, EVP of Strategy and Partnership at Nexii. "This project exemplifies the potential of Nexii's technology to transform the way we build, creating buildings that are more sustainable, durable, and energy efficient."
The state-of-the-art building was constructed using more than 6,500 sq. ft. of panels using Nexii's breakthrough concrete alternative, Nexiite. Nexii's building solution requires fewer resources, produces near-zero on-site construction waste, and significantly reduces end-to-end carbon emissions. Wall panels for this project were precision manufactured off-site and rapidly assembled on-site, reducing build times and construction costs and creating disaster-resilient, highly energy-efficient buildings.
Manufacturing is now focused on Nexii's state-of-the-art facility in Squamish, BC, with production operations from the Moose Jaw facility shifting to the much larger BC plant. This transition allows Nexii to consolidate production resources, streamline processes, and leverage its expanded capabilities to produce projects at scale more efficiently. Recently, Nexii's Squamish manufacturing plant became TRUE Gold Certified for Zero Waste, making Nexii the first construction manufacturing company in North America to receive this prestigious certification. The manufacturing plant diverts over 90% of waste from landfills.
A preliminary Life Cycle Assessment (LCA) of Nexii's panels compared to a functionally equivalent high performance tilt-up design suggests a 36% reduction in embodied carbon for Nexii's high-performance envelope, from raw material extraction through end-of-life.1 Nexii's Profound Impacts Report includes more information and demonstrates their commitment to sustainability and responsible business practices.
About Nexii
Nexii Building Solutions Inc. (Nexii) designs and manufactures low-carbon buildings and products to address the climate impact of our built environment. With buildings and construction responsible for 36% of global energy consumption and 37% of greenhouse gas emissions annually, sustainable and scalable solutions are urgently needed for net-zero buildings. With Nexii's breakthrough material Nexiite, Nexii enables the rapid assembly of high-quality buildings and infrastructure with reduced end-to-end carbon emissions, near zero waste and less disruption to the community. Sustainability is core to Nexii's mission to build a vibrant future for people and planet.
1 Includes above grade, infill, header, and sill panels. Preliminary LCA Modeling: Thruways, Indian Castle, PA, 3rd Party Report 2022
Source: Nexii Building Solutions