Newswire's Media Database Helps Companies Connect with the Right Contacts to Share Their News
Press Release
•
Aug 31, 2023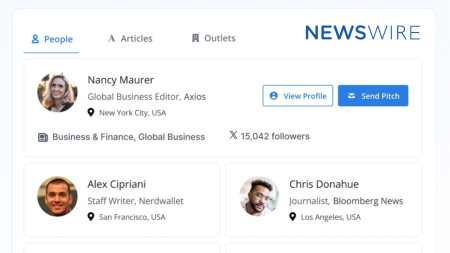 RALEIGH, N.C., August 31, 2023 (Newswire.com) - Newswire has been at the forefront of press release distribution and media technology for nearly two decades, allowing companies to get their message out to the right people at the right time.
Newswire's Media Database, now part of its award-winning press release distribution service, simplifies marketing communications for smaller businesses so they can target and connect with thousands of journalists from one source.
With up-to-date contact information and an easy-to-use platform, users can discover relevant journalists and outlets within their industry and pitch them directly.
"It's important to have a good understanding of the industry and know who's who when it comes to marketing a brand effectively," said Jennifer Hammers, Executive Vice President of Sales and Marketing at Issuer Direct. "We're proud to provide this resource to companies of all sizes to build custom lists to pitch easily and effectively."
It seamlessly integrates into the Newswire.com platform, allowing users to access its comprehensive repository of journalists and other media contacts that's regularly updated in real-time through a blend of technology and human-centered review.
With the ability to split, edit, or merge lists, businesses can take a more personalized approach to media pitching.
All these features help companies build greater brand awareness, increase online visibility, and generate more sales inquiries through targeted press release distribution campaigns.
For more information on how to distribute the right message to the right audience at the right time, visit www.newswire.com.
About Newswire
Newswire is a media technology company that provides its clients with the Press Release Optimizer, which consists of press release distribution, media databases, media monitoring, and newsrooms that power the Media Advantage: greater brand awareness through earned media, increased online visibility through greater SEO recognition, and more sales inquiries through targeted digital marketing campaigns.
Through its disruptive Press Release Optimizer, relentless commitment to customer satisfaction, and passion for customer performance, Newswire is automating media and marketing communications for large and small businesses seeking to deliver the right message to the right audience at the right time for the right purpose.
To learn more about Newswire and its Press Release Optimizer, visit Newswire.com and discover why our customers have named us #1 for Customer Satisfaction and Ease of Use for four years in a row. For more information, visit http://www.newswire.com.
Newswire is a wholly owned subsidiary of Issuer Direct, a leading communications and compliance company, providing solutions for both Public Relations and Investor Relations Professionals. For more information, please visit www.issuerdirect.com.
Source: Newswire