Newswire Shares How CMOs Can Effectively Use Press Release Distribution as a Marketing Vehicle
Press Release
•
Nov 29, 2022
Chief Marketing Officers are strengthening their brand's digital presence and connecting with key publications by leveraging Newswire's innovative press release distribution services.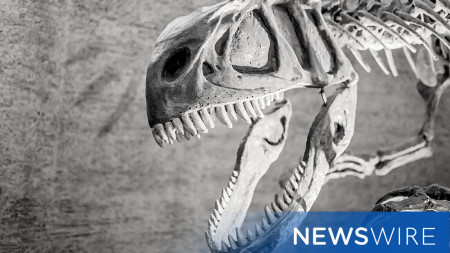 SARASOTA, Fla., November 29, 2022 (Newswire.com) - What do a Tyrannosaurus Rex, Velociraptor, and press releases have in common?
They're dinosaurs.
At least, that's what some people may think.
But Newswire, an industry leader in press release distribution and media technology, is flipping the script on this archaic narrative and helping Chief Marketing Officers (CMOs) make the most of this marketing vehicle.
Traditional press releases are extinct, and the meteor that caused it is Newswire's Media Advantage Platform (MAP).
Now, CMOs of small and midsize businesses have access to all of the essential components needed to build and nurture a robust online presence.
Newswire's MAP consists of experts that create the right content, curate the right media lists and commercial targets, distribute the right message through comprehensive press release distribution and commercial outreach, pitch the media, monitor and track effectiveness and showcase the communications in a newsroom that's uniquely tailored to each client.
"Press releases have gotten a bad reputation with CMOs as being a back-burner marketing task," said Charlie Terenzio, CMO and SVP of Media and Marketing Communications at Newswire. "Our MAP has turned press release distribution on its head, and the results we generate, like earned media mentions, increased brand awareness, improved SEO performance and sales, are a testament to that."
CMOs share a growth mindset, and strategic press release distribution acts as fuel that powers earned media mentions for brands.
In fact, in 2022 alone, Newswire's MAP team facilitated more than 300 earned media mentions and counting for clients in top outlets such as Forbes, Wall Street Journal, Bloomberg, CNET, Medium and The Business Journals.
"We've revolutionized the industry, and companies of all industries are harnessing the power of our press release distribution services to make a name for themselves and capture the attention of their target audiences," added Terenzio.
To learn more about Newswire's Media Advantage Platform and its integrated media solutions, visit Newswire.com.
About Newswire
Newswire is a media technology company that provides its clients the Media Advantage Platform consisting of press release distribution, media databases, media monitoring, and newsrooms that power the Media Advantage: greater brand awareness through earned media, increased online visibility through greater SEO recognition, and more sales inquiries through targeted digital marketing campaigns.
Through its disruptive Media Advantage Platform, relentless commitment to customer satisfaction, and passion for customer performance, Newswire is automating media and marketing communications for large and small businesses seeking to deliver the right message to the right audience at the right time for the right purpose.
To learn more about Newswire and its Media Advantage Platform, visit Newswire.com and discover why our customers have named us #1 for Customer Satisfaction and Ease of Use for four years in a row.
For more information, visit http://www.newswire.com.
Source: Newswire