Newswire Set to Exhibit at 15th Annual Small Business Expo in Los Angeles
Press Release
•
Aug 30, 2023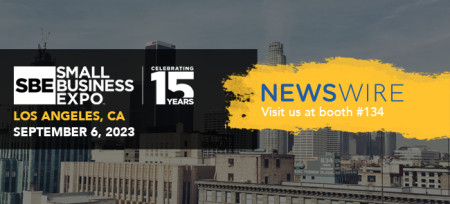 RALEIGH, N.C., August 30, 2023 (Newswire.com) - Newswire, an industry leader in press release distribution services, including content production, strategy, and planning, as well as media technology, is set to exhibit at the 2023 Small Business Expo on September 6 from 10 a.m.-6 p.m. PDT at the Los Angeles Marriott Burbank Airport.
This is the 15th year of the Small Business Expo, America's largest business-to-business trade show, conference, educational and networking event for small business owners, entrepreneurs, and start-ups.
As an exhibitor (booth #134), Newswire will share information about its industry-leading and award-winning press release distribution services like its Press Release Optimizer (PRO), which helps companies around the globe leverage consistent press release distribution, targeted media outreach, in-depth data analysis and more to earn media mentions and expand reach.
"For small businesses especially, standing out in a crowded marketplace feels like an uphill battle. We understand this struggle, and that's why we've developed press release distribution services to help small businesses stand out and get the attention they deserve," said Jennifer Hammers, Executive Vice President of Sales and Marketing at Issuer Direct.
Newswire offers a comprehensive host of press release distribution services that help small businesses distribute the right message to the right audience at the right time.
These offerings include:
Press Release Distribution
Press Release Optimizer
Media Database
Media Monitoring
Analytics
Newsroom
"This is our first time at the Small Business Expo, and our team's excited to exhibit and meet with Los Angeles business owners who are looking to grow their businesses and improve their bottom lines," added Hammers.
Attendees who stop by Newswire's booth (#134) will take home a Newswire toiletry bag.
About Newswire
Newswire is a media technology company that provides its clients with the Press Release Optimizer, which consists of press release distribution, media databases, media monitoring, and newsrooms that power the Media Advantage: greater brand awareness through earned media, increased online visibility through greater SEO recognition, and more sales inquiries through targeted digital marketing campaigns.
Through its disruptive Press Release Optimizer, relentless commitment to customer satisfaction, and passion for customer performance, Newswire is automating media and marketing communications for large and small businesses seeking to deliver the right message to the right audience at the right time for the right purpose.
To learn more about Newswire and its Press Release Optimizer, visit Newswire.com and discover why our customers have named us #1 for Customer Satisfaction and Ease of Use for four years in a row. For more information, visit http://www.newswire.com.
Newswire is a wholly owned subsidiary of Issuer Direct, a leading communications and compliance company, providing solutions for both Public Relations and Investor Relations Professionals. For more information, please visit www.issuerdirect.com.
Source: Newswire