Newswire Offers Assistance to Public Health Companies Looking to Share Key Messaging, Communications Due to COVID-19
COVID-19 has turned the healthcare and medical industries upside down in the United States, but it has brought about a fair share of good news for public companies that are looking to keep customers and investors informed.
Press Release
-
updated: May 27, 2020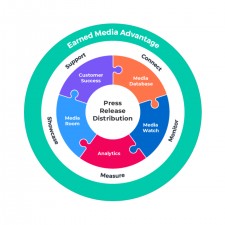 NEW YORK, May 27, 2020 (Newswire.com) - The ongoing COVID-19 crisis has complicated daily operations for nearly all major medical and healthcare-related institutions in the United States. However, reports have recently emerged with some good news for public healthcare companies such as CVS and UnitedHealth Group, including increased sales and expanded project development, respectively.
According to a report from FOX Business editor Jonathan Garber, CVS Health has seen a spike in profit as the coronavirus pandemic has caused a surge in overall sales. Pharmaceutical products, over-the-counter medications, and general merchandise sales have all individually increased at CVS locations that had been open for at least one full year.
In terms of digital transformations and advancements, Minnesota-based UnitedHealth Group announced that it will be rolling out the new ProtectWell protocol and Microsoft Azure-powered mobile application in an effort to assist employees as they look to prioritize safety in their return to the workplace. Per Yahoo Finance, ProtectWell will be offered free of charge to all employers in the United States.
"Public healthcare companies need to constantly keep their investors up to date with information such as earnings reports and updates on developments that have come about as a result of COVID-19 related restrictions," said Charlie Terenzio, Newswire's VP of Earned Media Advantage Business. "The Newswire strategists have the ability to work closely with in-house teams to ensure that this messaging stays consistent throughout this crisis and beyond."
Although the current economic climate may be best characterized as being uncertain, wins such as spikes in sales, revenue, or project expansion are key opportunities to boost both consumer and investor confidence. The Earned Media Advantage Guided Tour works helps public companies in the healthcare space distribute such stories to targeted audiences to maximize viewership potential.
The Guided Tour helps businesses address the challenges related to their media and marketing efforts by providing the ability to leverage a dedicated Earned Media Advantage Strategist at Newswire to develop and implement a 'customerized' plan to meet their business objectives. Through the Guided Tour program, customers can experience Newswire's high-tech, high-touch service and industry-leading support throughout the journey for the Earned Media Advantage: greater brand awareness, increased website traffic, greater return on media and marketing communications spend, and increased sales.
By providing a fully integrated media and marketing communications strategy to deliver results, customers can have the right plan that is implemented via the right message and sent out at the right time to the right people. Rated No.1 in customer satisfaction, Newswire continues to excel in industry with its best-in-class platform and customer service by providing businesses with a cost-effective media and marketing solution to support their sales and marketing efforts.
Find out how Newswire is Transforming the Value of a Press Releases today and learn how you can generate greater value and ROI across all of your PR campaigns.
About Newswire​
Newswire delivers press release and multimedia distribution software and services (SaaS) that empower the Earned Media Advantage: greater brand awareness, increased traffic, greater return on media and marketing communications spend and the competitive edge. With over a decade of experience, Newswire continues to provide its customers with the ability to deliver the right message to the right audience at the right time through the right medium.​
To learn more about how Newswire can help you, visit http://www.newswire.com.
Contact Information
Charlie Terenzio
VP of Earned Media Advantage Business
​Newswire
​Office: 813-480-3766
Email: charlie@newswire.com
Source: Newswire
Share:
---
Categories: Healthcare and Medical News
Tags: healthcare, healthcare companies, Newswire News, public health companies
---