Newswire Highlights the Importance of the Inverted Pyramid with Smart Start Guide
Press Release
•
Sep 11, 2023
Newswire shares a comprehensive guide to help business professionals craft interesting press releases using the inverted pyramid.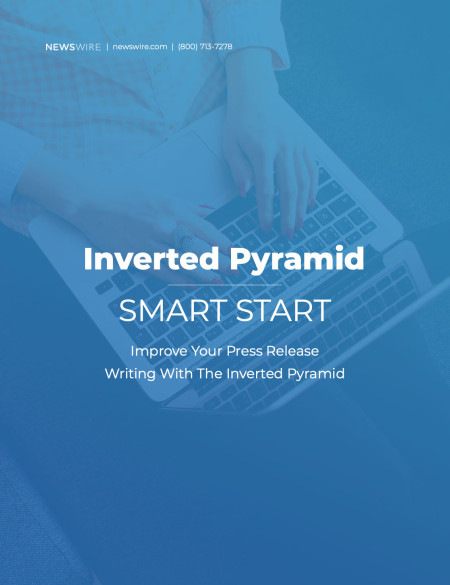 RALEIGH, N.C., September 11, 2023 (Newswire.com) - Newswire, an industry leader in press release distribution services, including content production, strategy, planning, and media technology, understands the importance of a proper press release format.
How a press release campaign is structured not only helps companies ensure they're covering the most important information but makes it easier for journalists to quickly understand the campaign's main message.
To help business professionals around the globe make the most of their press release campaigns, Newswire created its Inverted Pyramid Smart Start.
In this Smart Start, readers will learn:
The basics of a press release
How to properly structure a press release
The importance of press releases
And much more
"A strong newsworthy press release topic is the first step of a successful campaign, the next is to structure the content in a way that's easy to read and makes the main message abundantly clear," said Jennifer Hammers, Executive Vice President of Sales and Marketing at Issuer Direct. "The combination of a strong story and a properly formatted press release is what helps brands stand out and capture the attention of the media and their audience."
It's reported that 70% of readers will only read the first paragraph which reaffirms the need for writers to address the most relevant information at the beginning of the press release.
When written correctly, press releases cover the who, what, where, when, why, and how. These are commonly referred to as the 5 W's + How and serve as the foundation for the inverted pyramid.
Newswire leans on its nearly 20 years of experience to help clients in a variety of industries uncover newsworthy topics, craft compelling press releases, identify media opportunities, launch targeted campaigns, and maximize their media and marketing strategies.
"This Smart Start guide shares press release writing tips and advice everyone from the novice to pro can use to properly structure their press release," added Hammers.
Download Newswire's Inverted Pyramid Smart Start today.
About Newswire
Newswire is a media technology company that provides its clients with the Press Release Optimizer, which consists of press release distribution, media databases, media monitoring, and newsrooms that power the Media Advantage: greater brand awareness through earned media, increased online visibility through greater SEO recognition, and more sales inquiries through targeted digital marketing campaigns.
Through its disruptive Press Release Optimizer, relentless commitment to customer satisfaction, and passion for customer performance, Newswire is automating media and marketing communications for large and small businesses seeking to deliver the right message to the right audience at the right time for the right purpose.
To learn more about Newswire and its Press Release Optimizer, visit Newswire.com and discover why our customers have named us #1 for Customer Satisfaction and Ease of Use for four years in a row. For more information, visit https://www.newswire.com.
Newswire is a wholly owned subsidiary of Issuer Direct, a leading communications and compliance company, providing solutions for both Public Relations and Investor Relations Professionals. For more information, please visit www.issuerdirect.com.
Source: Newswire