Newswire Helps GIMME Beauty Land Mention in Allure Magazine, Shares Details in New Case Study
Press Release
•
Jun 8, 2023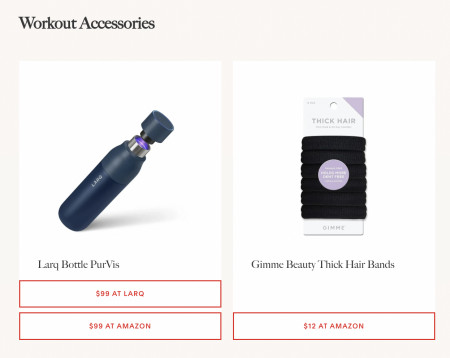 RALEIGH, N.C., June 8, 2023 (Newswire.com) - GIMME Beauty, a health and beauty company committed to designing innovative hair solutions and a Newswire Press Release Optimizer (PRO) Plan client, earned a mention in Allure Magazine - a top-tier industry publication.
In the article titled, The Best At-Home Gym Essentials for When You Can't Be Bothered to Go Outside, Allure listed GIMME Beauty as one of its essential "Workout Accessories."
This earned media opportunity was a result of Newswire's dedicated team of experts who developed and distributed press release campaigns, built and nurtured ongoing relationships with journalists at Allure, and executed targeted outreach campaigns.
"The PRO Plan is more than just press release distribution. It's a full-service offering that also includes strategy, content writing, relationship building, and media pitching," said Madeleine Moench, Media and Content Manager at Newswire. "Our team worked closely with GIMME Beauty to develop a plan to get their brand in front of the journalists at Allure. The strategy we created worked, and we helped GIMME Beauty secure an earned media opportunity in one of their target publications."
As part of the PRO Plan, GIMME Beauty works with Newswire's team to create high-impact stories, launch targeted outreach, analyze press release campaign data and more to position its company as a leader in the beauty industry.
"When Newswire says they're an extension of your team, they mean it. The open lines of communication, strategic thinking, attention to detail and expertise they provide have helped us build the awareness we need. Newswire continues to deliver results and I'm excited for what's to come," said Jeff Durham, Chief Executive Officer at GIMME Beauty.
Newswire's recent case study highlights GIMME Beauty's Allure Magazine mention and covers topics including:
- The 5 Ps of the Press Release Optimizer (PRO) are helping GIMME Beauty meet and exceed its media and marketing goals.
- Consistent and strategic press release distribution and media pitching can lead to earned media opportunities.
- GIMME Beauty is gaining visibility and credibility, and positioning itself as a leader in the beauty industry through the PRO Plan.
Download the GIMME Beauty Case Study to learn more about the company's success on the Newswire PRO Plan.
About GIMME Beauty
GIMME Beauty's vision is to design innovative hair solutions that disrupt the status quo of the health and beauty hair care category. The company's products rank among the industry's fastest-growth hair accessories, according to Nielsen Market Data. Since it launched in 2006, GIMME has become a national brand available at more than 20,000 stores across the United States. Follow GIMME on Instagram or Facebook to learn about its latest collections.
About Newswire
Newswire is a media technology company that provides its clients with the Press Release Optimizer, which consists of press release distribution, media databases, media monitoring, and online media rooms that power the Media Advantage: greater brand awareness through earned media, increased online visibility through content strategy and planning as well as greater SEO recognition.
Through its disruptive Press Release Optimizer, relentless commitment to customer satisfaction, and passion for customer performance, Newswire is automating media and marketing communications for large and small businesses seeking to deliver the right message to the right audience at the right time for the right purpose.
To learn more about Newswire and its Press Release Optimizer, visit Newswire.com and discover why our customers have named us #1 for Customer Satisfaction and Ease of Use for four years in a row. For more information, visit http://www.newswire.com.
Newswire is a wholly owned subsidiary of Issuer Direct, a leading communications and compliance company, providing solutions for both Public Relations and Investor Relations Professionals. For more information, please visit www.issuerdirect.com.
Source: Newswire