Newly Released Children's Book 'Mia & Mya Twin Adventures' Now Comes as Coloring & Activity Book
Single mother of four self-publishes her third book
Press Release
-
updated: Aug 26, 2020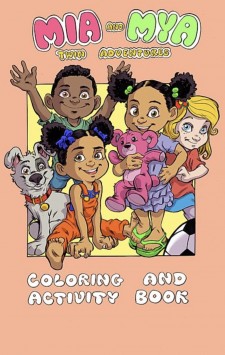 NEW YORK, August 26, 2020 (Newswire.com) - Children's author Raleena Bush has broadened the reach of her original book "Mia & Mya Twin Adventures" with the release of the "Mia and Mya Twin Adventures Coloring and Activity Book." Bush birthed and designed the coloring and activity book during the heart of the COVID-19 pandemic for children ages 4 to 8 years old and it is now available for sale on Amazon and at www.miaandmyatwinadventures.com. It is an educational and fun resource for parents and their children.
Bush states, "As COVID-related curfews and closings called for more home activities with my children, I saw the need to produce my coloring and activity book. Kids will love all of the discovery inside the coloring and activity book. It is filled with creative activities that make learning feel like play."
The Spanish edition of "Mia & Mya Twin Adventures" was published in the summer of 2019. During this launch, Bush had the opportunity to give and personally read the entire book to the children of the Casa Del Nino Y La Nina in Centro Havana, Cuba. "I was beyond honored to introduce the Spanish edition to the children of Cuba," states Bush. Breaking down barriers in today's climate, Raleena – an African-American mother – chose to share her experiences with children whose first language is Spanish. This edition is also available on her website as well.
AMAZON'S BOOK DESCRIPTION FOR 'MIA & MYA TWIN ADVENTURES':
Meet Mia and Mya! The twin sisters who love to learn so much that they learn something new every single day. Life for these twin sisters is one life-size question mark filled with wondrous life lessons inside. Mia and Mya's single mother has a front row seat to her daughters' adventurous teachable moments and even learns a thing or two along with her twins. Because everything in Mia and Mya's life has always come in a set of two, readers will enjoy two relatable, heartwarming, and inspiring stories in this one book! One story explores bullying and its impact. Mia attempts to bully Mya's friend unaware of the word or definition. Thankfully, their mother comes to the rescue and teaches her twins the importance of being fair and kind. The second story explores the twins' feelings about growing up without their father. "Mia & Mya's Twin Adventures" is packed with vital lessons in clear and simple terms that children need at an early age.
ABOUT THE AUTHOR:
Raleena Bush resides in the NYC area with her four children. While pregnant with her twins, she utilized her time to create something her twins would be able to relate to later in life. Additionally, she wrote stories based on experiences they might encounter as twins. She also shed light on challenges the girls may face as identical twins.
The book is available at www.MiaAndMyaTwinAdventures.com. ​
Source: Raleena Bush
Share:
---
Categories: Books
Tags: Activity Book, Children's Book, Coloring book, Lynn Hobson, Raleena Bush
---