New White Paper Explores the Digital Signage Opportunities for Sign Companies and Print Providers
Mvix, a pioneer in affordable digital signage, today released a new white paper that examines the digital signage market opportunities for sign companies and print providers. The white paper was developed to help print and sign shops understand the ways in which they can leverage the growing popularity of digital signage to fend off competitive threats and increase their market share.
Press Release
-
Mar 3, 2016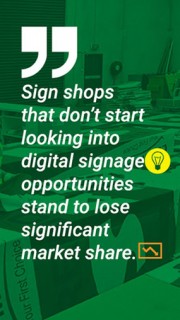 Sterling, VA, March 3, 2016 (Newswire.com) - ​​​Titled "Digital Signage Opportunities for Sign Shops" this white paper first explores the dramatic shift in how businesses are communicating with their customers. The increasingly tech-savvy customers' familiarity with technology, reliance on digital communications, and desire to remain in contact with large networks is transforming how businesses are interacting with them. Customers want fast yet personalized and relevant information, delivered via a medium that is fun and engaging.
According to the white paper, digital signage is enabling businesses to "speak" the digital and visual language of clients, engage with them, and forge personal and profitable relationships. It is also streamlining operations by automating information delivery and maintaining message consistency across multiple channels i.e. website, mobile and physical.
Digital signage will swell to $20 billion by 2020 according to the white paper. Mvix notes how impressive this is, considering the industry is only 10 years old. "Digital Signage Opportunities for Sign Shops" includes considerations for print providers and sign companies who want a piece of the pie. It expounds on the shortcomings of static signage, both in the production of the signage and it's effect on customers. It also explores the strengths of signs shops and how they can be parlayed into profits.
From the paper:
"A traditional sign shop new to digital signage is already steps ahead of a new digital signagevendor.
How so?
First, they are coming into the market with a unique understanding of the elements of effective information display. They have a much better understanding of the communication element, without relying on the medium as an attention-getter.
Not all signage needs to be big, flashy, and overcrowded. New digital signage vendors often focus on style and pizzazz over content and communication, which can desensitize viewers from the message. Traditional-to-digital converts are often able to blend the two elements effectively.
Second, traditional sign shops are in a unique position to leverage the customer base they've built in print and move it to digital. These customers may be unaware of the potential of digital, and it's up to the sign shop to present 'new and improved' digital alternatives. Being proactive is the most surefire way of getting static signage customers to embrace digital signage."
Mvix has established itself as a leader in affordable digital signage. Their low-cost yet robust solutions include a powerful, subscription-free, cloud-based digital signage software. This is just one element of their end-to-end solutions that include digital signage hardware (media players, displays, mounts etc.) and services such as content design, installation, training,managed services, digital signage implementation etc.
"Dynamic digital signage is growing rapidly and traditional sign shops need not worry about being phased out," said A. Jay, the Mvix Sr. Director of Business Relations. "The business opportunities in digital signage are tremendous, and this white paper will help print providers and sign companies determine whether the opportunities align with their business goals​."
This white paper is a must read for signs shops seeking to better understand and expand into digital signage. A complimentary download is available at Digital Signage Opportunities for Sign Shops.
Share:
---
Categories: Business Technology, Marketing, Signs, Bill Boards, Marquees, and Displays
Tags: digital signage, digital signage opportunities for sign shops, digital signage resellers, digital signage whitepaper
---