New Social Media Ecosystem Makes Photo and Video Instantly Shoppable, While Users Earn From Posts
Press Release
•
updated: Jun 15, 2017
New contextual commerce platform streamlines the gap between user-generated content and e-commerce and shares sales profits with users.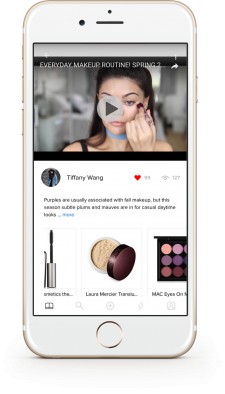 Los Angeles, California, June 14, 2017 (Newswire.com) - To the Tens is an ad-free lifestyle platform that's changing the social media business model by tossing out the notion of ad-based revenue, and redistributing a substantial portion of its creatively-generated profits to users.
To the Tens launched in response to a general shortfall in the online experience, with content becoming less genuine and organic posts losing ground to paid ones. The ad-based social media model results in a compromised user experience and high advertising costs to brands, with low click and conversion rates to show in return. Therefore, To the Tens' greatest attraction for brands and users is its seamless transition from inspiration to shopping. And, in the spirit of sweetening the user experience, To the Tens is rewarding users for providing the inspiration.
User content is the hero element because it not only what keeps people on social media, despite the ads; it's also the most compelling way for people to see products that they want. In today's online environment users are the content creators who really add value, and each post is a story. We've linked the products that make up each story and create a seamless transition from inspiration to e-commerce. This is a more evolved user experience that's experientially and financially rewarding. It's a new standard for the way things are seen and bought online.

Paul Ahn, Founder & CEO
Founding CEO Paul Ahn explains, "True, social media is a primary source of entertainment and information but it's really all about the ads." He cites the example of Facebook Inc., the social media giant that recorded $27.5 billion revenue last year, of which $26.9 billion - more than 97 percent - came from advertising. Ahn recognizes the incongruity of the social media micro-economy, acknowledging that it's actually the user content that keeps people logging back on. He questions, "Should we - the real content creators - really be satisfied with just the number of likes we get on our posts, or do we deserve more? What if there were an ecosystem that helps worthy businesses grow while rewarding us, the content creators, for sharing the products we believe in? We'd all benefit from making social media a place where everyone sees good, genuine content."
The platform acknowledges that an online community is a place where each user is both consumer and creator. Therefore, it provides a seamless transition from social content to ecommerce by utilizing user-generated content as the ultimate conversion tool. This boosts ROI and sales potential for brands while providing an enhanced user experience.
The platform's business model hinges upon its unique functionality: To the Tens enables socially-shared content to be linked to actual products, so each visual story has a full breakdown of the things that came together to create it. Linking products to user-generated content allows To the Tens to reward users whenever someone shops from their photos: every time a product is sold through a user's photo, that user gets part of the sale. These earnings are disbursed in the form of points, which can be cashed out to Paypal.
In addition to tangible and experiential benefits for users, To the Tens is also an enticing growth channel for the hundreds of fashion, beauty and lifestyle brands that are on the platform because they pay for results, not for exposure: instead of buying clicks or ads, businesses pay a flat percentage of each sale.
About To the Tens
To the Tens is an online community that's dedicated to style inspiration. Based in Los Angeles, To the Tens is a Silicon Beach tech start-up. While successfully managing an emerging fashion label, creator Paul Ahn met firsthand with a problem faced by countless brands: social media exposure was driven by marketing dollars, favoring a handful of heavily-backed brands while leaving most with little opportunity for exposure. To the Tens thus emerged as the solution, integrating extensive industry experience with a highly strategized approach to user-driven technology. The company is committed to "changing the way things are seen and bought online" through next-level social media. To the Tens is available for download on the App Store and Google Play.
Media Contacts:
Hila Shmilovich
​hilas@tothetens.com
424-835-4075
Source: To The Tens
Related Media
Related Files
Additional Links