New Single Destiny Featured at "Bringing Love" Show Video Release
Press Release
•
updated: Jul 26, 2017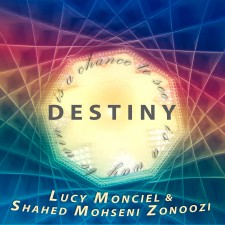 Los Angeles, CA, July 26, 2017 (Newswire.com) - Multi-cultural multimedia production organization InterContinental Concerts (ICC) will release a video of Bringing Love Show and a single, Destiny, on July 26th. In spring 2017, ICC staged a live multicultural event, Bringing Love Show at Musicians Institute in Hollywood involving upcoming and established artists from different cultures. The event involved multimedia projections and proved to be a success through the cultural diversity of performances, the common connection we all have to music and promoting values like peace, unity, and love.
The single Destiny was performed for the first time during the "Bringing Love" show and will be celebrated as a key piece of the video release for the event. The song was born out of a collaboration between Shahed Mohseni Zonoozi (founder and producer of ICC) and Lucy Monciel to create a world fusion electronic track with Duduk solos (Armenian Instrument). Shahed is an award winning composer with a huge appetite for world music, while Lucy Monciel is an established singer songwriter with colorful music tastes and voices. They both dream of building a multicultural environment and worldwide acceptance of diversity through their music. The concept of their song is the universal theme of fate, that is either decided by free will but also by pre-written astrological norms. That is why whatever you decide to give will always come back to you somehow. This song spells the magic word "destiny" that gives you the keys to the trance world of Shahed Mohseni Zonoozi and the middle eastern operatic sounds of Lucy Monciel.
Whatever you give, will come back to you somehow
InterContinental Concerts (ICC) is a multimedia production organization that produces music, live concerts, performance videos and feature films. ICC values diversity and promotes unity among all people on earth with the primary goal of bringing together artists from around the world to participate in various productions and projects and creating unique music events and shows. Since 2011, ICC produced concerts, music videos, and award-winning music tracks. These results were achieved by working with more than 145 artists from 45 countries.
The song Destiny will be made available in stores within the last week of July (July 26th for flagship stores like iTunes). Look forward to a very promising song to inspire you and bring you lots of joy in your life!
For information about ICC, please check:
https://www. InterContinentalConcerts.org
https://www. facebook.com/InterContinentalConcerts
For information about Lucy Monciel, please check also:
https://www.facebook.com/lucymonciel/
https://www.instagram.com/lucy.monciel/
https://twitter.com/lucy_monciel
https://soundcloud.com/lucy_monciel
Source: InterContinental Concerts